Stop the Cheating of the Minorities by the Opposition
Vijayan Sankar (Author)
Published Date :

May 26, 2019 14:03 IST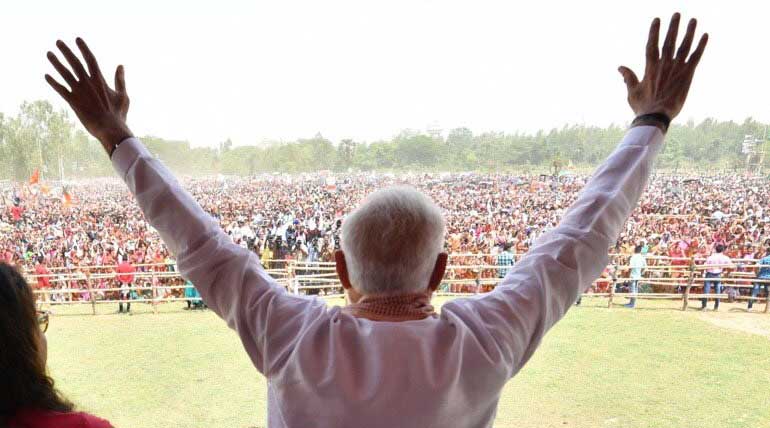 "We have to stop the cheating of the minorities by the opposition," says Modi
In the meeting of the newly elected members of the NDA, Prime Minister Modi has said that the opposition has been cheating minorities. He wanted all the NDA members to stop that cheating and win their confidence. Even after winning a thumping majority after the five years rule of NDA, Modi is accusing the opposition. He also said the "development for all" in the last term should be "confidence for all" this time.
NDA parliamentary party unanimously elects Modi as its leader: After an astounding win of 353 seats in 2019 elections better that of 2014 NDA parliamentary party met yesterday. Modi was again elected unanimously as its leader paving the way for him to become Prime Minister of India.
Some new changes of Modi in the NDA meet: As Modi said while meeting the President to submit his resignation that a new dawn has come over India, there were some changes in Modi. He was flanked on both sides on the dais by LK Advani and Murli Manohar Joshi. Both were denied ticket and almost ignored for the past five years. Modi bowed before the copy of the Constitution placed on the central hall. Most of his speech was about constitutional values and inclusiveness of all the 130 billion people of India. When in the last regime, there was much talk about changing the Constitution by his party leaders, and there were several attacks on minorities. Even the main accusation of the opposition was that the great leaders of BJP were ignored, the Constitution will be changed, and the minorities will be crushed. The actions of Modi yesterday seem to free the people of India of such fears.
But only time will tell if yesterday's actions and words of Modi will bring a new dawn for India and uplift all its people.