ads
Tailor-made Stitches of Anti-BJP Alliance in Progress: Elections 2019
Anusha Sathish (Author)
Published Date :

May 21, 2019 16:58 IST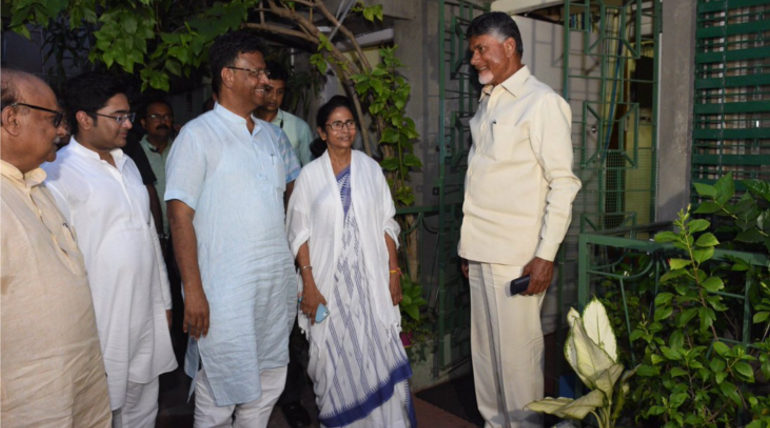 With exit-poll predictions favouring NDA-led BJP alliance, Andhra Pradesh Chief Minister Chandrababu Naidu and his counterpart Bengal Tigress Mamata Banerjee met at her Kolkata residence to stitch opposition anti-BJP alliance. They both are instrumental in excavating the concerns of EVM machine manipulations which are surfacing everywhere post-polling. But the leaders are tight-lipped and not letting out the crux of the meeting. But the sources close to Trinamool Congress stated that the strategies to unite the anti-BJP parties are discussed and decided by these political bellwethers. It is planned that anti-BJP parties should come under one umbrella and should constitute the agenda before the poll results are announced.
Both the leaders have thrashed the exit poll results which predicted a comeback for BJP. Mamata pointed out that the exit poll result is a game plan by which the EVMs can be manipulated. Resonating Mamata's concerns Naidu also said 50 per cent VVPATs (Voter-Verified Paper Audit Trail Machines) should be matched with the corresponding EVMs to avoid discrepancies. But the same has not been approved. VVPAT is a system which enables EVM to record each vote by generating a slip. It was introduced in all 543 constituencies in the 2019 election. There should be transparency everywhere and why it is not materialized questioned both the leaders. The exit polls predicted an unprecedented surge of BJP in West Bengal and also indicated Naidu's arch-rival Jagan Mohan to win in15 out of 25 seats in Andhra Pradesh. This result disappointed both the leaders by denting their aspirations of a landslide victory.
This is not the first meet of Naidu with Mamata but a number of times meeting happened. To highlight, he also campaigned for her party in two election rallies in Jhargam and Haldia in Bengal. To further strengthen the alliance he also met Congress President Rahul Gandhi, UPA chairperson Sonia Gandhi, National Congress Party chief Sharad Pawar and Communist Party of India-Marxist (CPI-M) General Secretary Sitaram Yechury on the final day of polling on Sunday.
Tailor-made Stitches of Anti-BJP Alliance in Progress: Elections 2019