ads
Tamilisai soundararajan Fires on DMK Pointing out the Party as a Chameleon
Vijayan Sankar (Author)
Published Date :

May 16, 2019 13:21 IST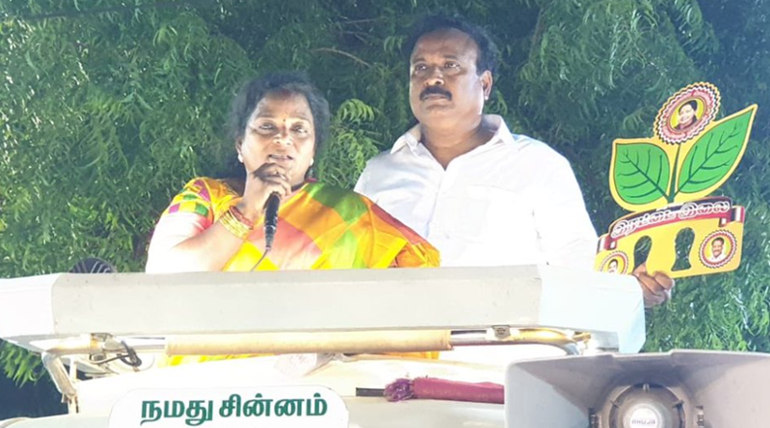 Tamilisai Soundarajan: The Tamil Nadu BJP state president again reiterated her claim yesterday of DMK talks with BJP. She also said that there is no doubt that DMK is like a chameleon which changes colours according to the surroundings. Tamilisai Soundarajan went on to comment that neither she nor Modi ever lies.
Will give proof at an appropriate time:
Irked by the accusation of Tamilisai of DMK having secret talks with BJP yesterday, Stalin challenged quitting politics if proved of such discussions. But again on Wednesday Tamilisai was confident enough to say that she has enough proof for the talks and would give them at the appropriate time.
Is Tamilisai questioning Stalin meeting KCR credible?
Tamilisai also questioned what is the need of Stalin meeting KCR when the DMK is in alliance with Congress. Also, she said having announced Rahul as the prime ministerial nominee how could Stalin meet KCR. Maybe this is the proof she is having for her allegations. And many doubt that even the meeting could be stage managed for such false accusations what is wrong in a meeting of a Chief Minister of a neighbouring state meeting the opposition leader for support of Federal Front.
What I say has some reasons and is based on reliable information.
Tamilisai went on to add that she comes from a family that never lies. Also, she says she is a profoundly honest person. And she goes on to add that her accusation of talks of DMK and BJP is because of some valid reasons. And it is also based on reliable information which will be revealed at the appropriate time. Only time will prove if such kind of allegations are right or not, and it is only a week from now.
Tamilisai soundararajan Fires on DMK Pointing out the Party as a Chameleon