Thanga Tamil Selvan is Propaganda secretary in DMK Officially Announced
Vijayan Sankar (Author)
Published Date :

Aug 30, 2019 15:38 IST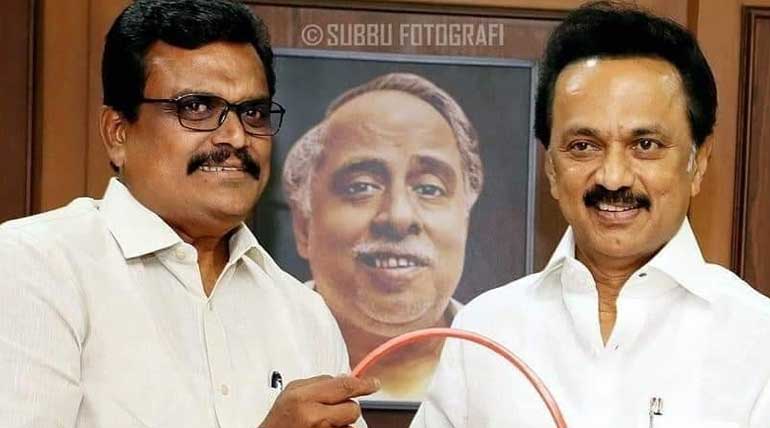 DMK continues to honour opponent party bigwigs joining it, by appointing Thanga Tamil Selvan as its Propaganda secretary
DMK general secretary today announced the appointment of Thanga Tamil Selvan as one of its three propaganda secretaries. The other two secretaries are party's stalwarts Rajya Sabha MP Tiruchi Siva and Lok Sabha MP A.Raja. Also, VP Kalairajan a two-time AIADMK MLA from the prestigious T.Nagar assembly constituency in Chennai was elected as the DMK party's literature secretary. It is in the continuance of DMK's policy of appointing opponent party big wigs joining them, in its many important posts.
Thanga Tamil Selvan, a previous AIADMK strongman from Theni, was MLA many times in Andipatti assembly seat and also was its Rajya Sabha MP from 2002 to 2008. After the demise of former Tamil Nadu Chief Minister Jayalalitha, he switched his loyalty to TTV Dinakaran and two months back joined DMK.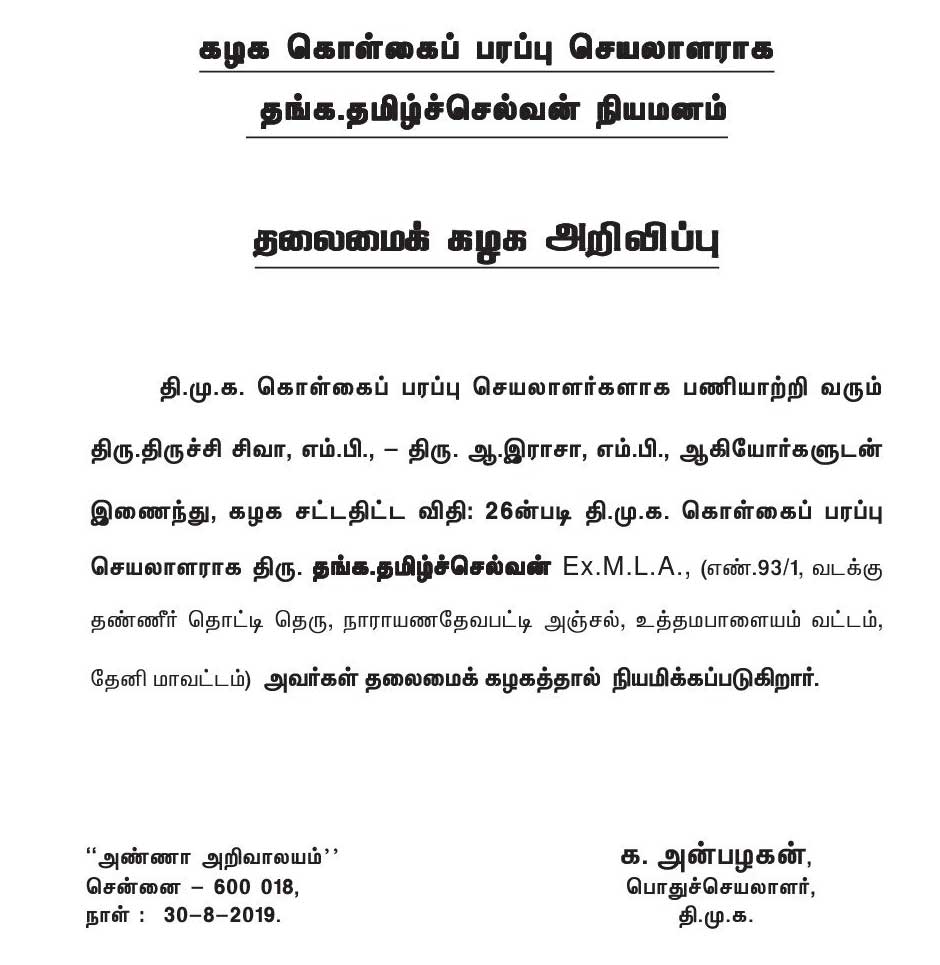 Thanga Tamil Selvan's efforts rewarded by DMK today:
Hardly one month back Thanga Tamilselvan brought to the DMK party 27000 + AIADMK and AMMK party people. He submitted their application forms to the DMK president M.K. Stalin in Arivalayam. He also worked efficiently in Vellore MP election to make the DMK candidate Kathir win the seat with marginal vote difference. Now he is rewarded with the Propaganda secretary post for all his efforts.
Is this post to Thanga Tamil Selvan, a grooming technique to beat OPS in Theni district:
The appointment of Thanga Tamil Selvan as the propaganda secretary post has some secret plans for DMK also. By developing Thanga Tamil Selvan, they can develop the DMK party in the AIADMK stronghold Theni district. Even in the last MP elections in May 2019, DMK lost only one seat in the whole of Tamil Nadu. It was the Theni district. Now with Thanga Tamil Selvan as propaganda secretary, it will boost the chances of DMK in Theni in the coming civic polls and assembly elections. Also, Thanga Tamil Selvan knowing all the inside details of AIADMK and AMMK leaders will come in handy for the DMK.
Other ADMK leaders given posts in DMK:
PK Sekar Babu a big wig in Chennai AIADMK, when joined DMK was made the MLA of harbour constituency, and also it's North Madras Secretary. Karuppusamy Pandian in Tirunelveli, when left AIADMK and joined DMK, was made its district secretary and MLA also. With Thanga Tamil Selvan, the DMK is following its policy to give the post to opponent party bigwigs when they join DMK.