ads
The First Terrorist of India was a Hindu Kamalhaasan Speech
Vijayan Sankar (Author)
Published Date :

May 13, 2019 12:34 IST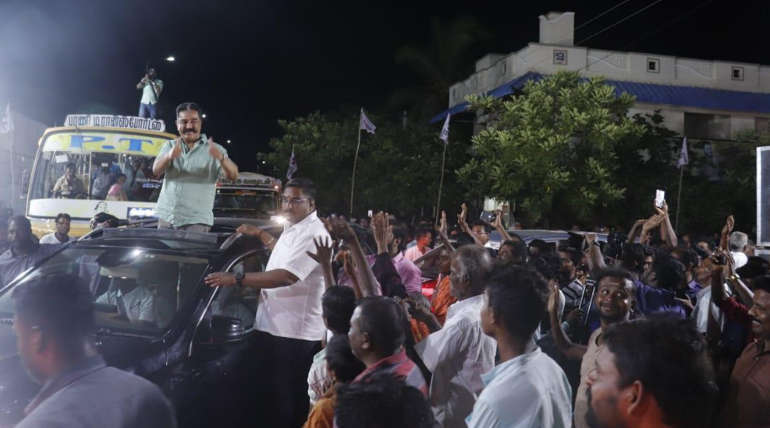 KamalHaasan Speech on First Hindu Terrorist: Kamalhaasan, the leader of Makkal Needhi Maiam yesterday in his campaign for his party's candidate made a controversial observation. During the speech in the Aravakuruchi constituency where is candidate S.Mohanraj is contesting the by-polls he made this statement. He said that post-independence in India, the first terrorist is a Hindu. He referred to Nadhuram Godse the assassin of Mahatma Gandhi.
Why is this statement controversial? Kamalhaasan being a nonbeliever used to criticize religion even in his movies. He said this statement in an apparent reference to Prime Minister Modi's speech two days back that opposition parties are humiliating and damaging Hindu culture and heritage by calling Hindu terrorism. No political party in India was able to answer this question in fear of losing votes of Hindus. But it was Kamalhassan again with his strong belief in being a nonbeliever uttered this statement boldly.
2019 elections fought on religion and nationalism: The ruling BJP solely relies on Hinduism and nationalism in this election. It believes only these two agendas can win them this election. But in Tamil Nadu even during the Modi wave of 2014, they were able to win only one seat. Hence Hindus who survived and progressed under the 700 years rule by Muslims and Europeans are not going to be destroyed now.
Is Kamalhaasan's statement applauded or feared? Based on historical and recorded facts, what Kamalhaasan told is 100 % true. Naduram Godse was a Hindu. He was convicted for assassinating Mahatma Gandhi. He was the first terrorist act in post-independent India. All are true. But how far the Hindus will accept it is up to them. If the same statement had been told in northern India, the story would have been different. But in Tamil Nadu until now it is considered reasonable by many. Some hardcore Hindus may take it seriously. But again our constitution has given the freedom of speech which no one can deny.
The First Terrorist of India was a Hindu Kamalhaasan Speech