ads
TN Chief Minister Edappadi Palanisami Fear on TTV Dinakaran
Vijayan Sankar (Author)
Published Date :

May 13, 2019 12:15 IST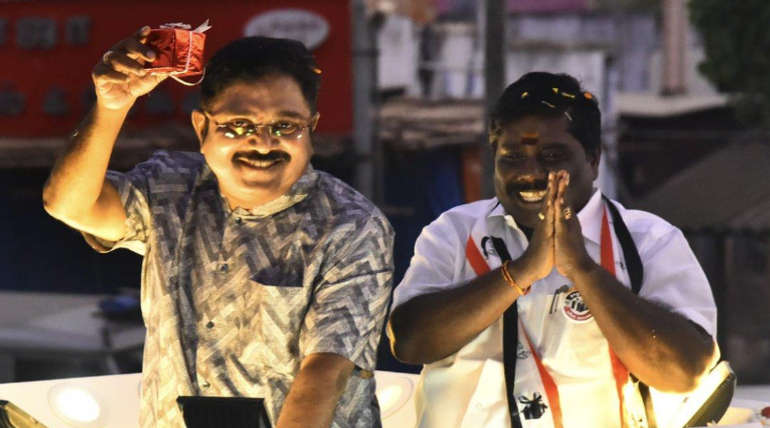 Chief Minister Palanisami's fear of TTV Dinakaran: Chief Minister of Tamil Nadu yesterday expressed his dismay and apprehension that DMK is having a secret pact with TTV Dinakaran. Yesterday on his campaign for Mohan the AIADMK nominee for Ottadpidaram assembly constituency, he viewed this vociferously. He went on to say that TTV Dinakaran's party AMMK is contesting these by-polls only to help DMK win.
AIADMK & AMMK: AMMK is the party floated by TTV Dinakaran after the Supreme Court convicted Sasikala and sent to jail. TTV Dinakaran won against all parties in the RK Puram bypoll and became an MLA. All parties lost deposit including the DMK. But it was a single MLA constituency, and everyone knew how he won.
The importance of elections in the four assembly constituencies: The campaign is near its end for the four constituencies for the by-polls set on May 19th. The results are to be announced on 23rd or 24th May. The final date of result announcement is going to be decided by the Chief Election meeting at Delhi today. But the results will not only decide India's future but also Tamil Nadu's fate of who is going to rule it. Chief Minister has to win a meager two or three seats of all the 21 seats of which 18 completed voting and the balance 4 to go on polls on 19th.
Why is now Palanisamy accusing AMMK? AMMK being part and parcel of AIADMK may split the AIADMK votes. Already there is a big dent in voting for the AIADMK for various reasons. But as per the politician's view, for Palanisamy it is more important not to lose the party workers and voters. It could lure the party workers and could confirm the victory of DMK. Hence to safeguard his party workers and his chief minister seat Palanisamy is making this kind of accusation.
TN Chief Minister Edappadi Palanisami Fear on TTV Dinakaran