TN Congress President, Azhagiri Commented on The Arrest of Nellai Kannan
Vignesh Subbaian (Author)
Published Date :

Jan 02, 2020 15:11 IST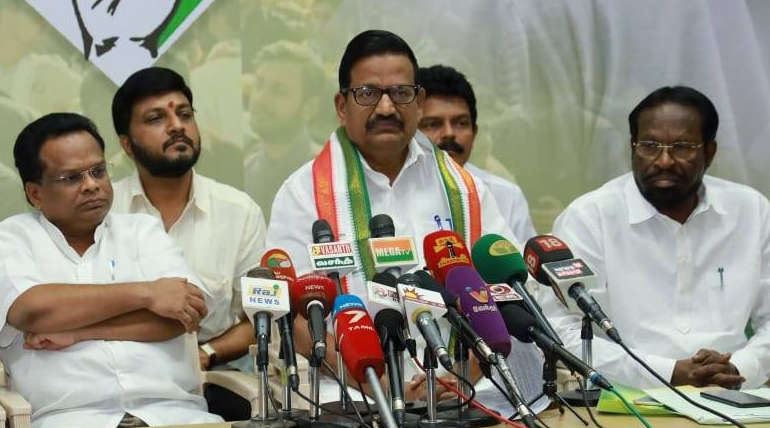 Biased Judgement in the democratic country - Is Rajiv Gandhi not at par with Narendra Modi and Amit Shah? It has been quite some time that the citizenship act was, by and large, considered "not good" for the country. This act passed brings with it a lot of critics and controversies. Refugees cannot be given citizenship rights, and it is against democracy is what people feel. Also, this will create more competition. Hence, the act passed should be reconsidered according to the northeast states, and people all over India support this.
The opposition parties are passing comments against Narendra Modi and Amit Shah, who were instrumental in passing this act. Writer Nellai Kannan in a public meeting regarding the act vented out on Narendra Modi and Amit Shah. He stated that why Muslims haven't finished Modi and Shah. And, that statement seemed to be more than enough for the BJP to react.
Immediately BJP reacted to the same and based on the complaint Nella Kannan was arrested in Perambalur yesterday. But he was medically unfit suddenly and rushed to Madurai Private Hospital. He is currently undergoing treatment. Amidst all these, a question has arisen from Congress Leader Azhagiri on how Seeman, who spoke ill about Rajiv Gandhi, has not been condemned so far?
In a meeting, Seeman has put out a blunt statement that "We killed and buried Rajiv Gandhi," said Seeman. Such an audacious statement which didn't move the officials. So biased judgment is the current situation in the country? The ruling party is given priority and is being treated like a feather in the cap. Seeman is roaming freely after this statement.
There was a complaint registered against Seeman for this issue but went unaddressed. If Nellai Kannan is arrested, Seeman should be given the same treatment. Where is the country heading towards? How can this open bias be tolerated? It is required urgently to look into this issue. Nellai Kannan is already arrested, and based on the doctor's fitness certificate, a further inquiry will proceed. Meanwhile, Seeman should be confined to the same zone, and that is called real democracy; let's wait for the "right to equality" happen, opined Azhagiri.