ads
Udayanithi Stalin 1st DMK Youth Wing Meeting in Chennai
Vijayan Sankar (Author)
Published Date :

Aug 25, 2019 15:23 IST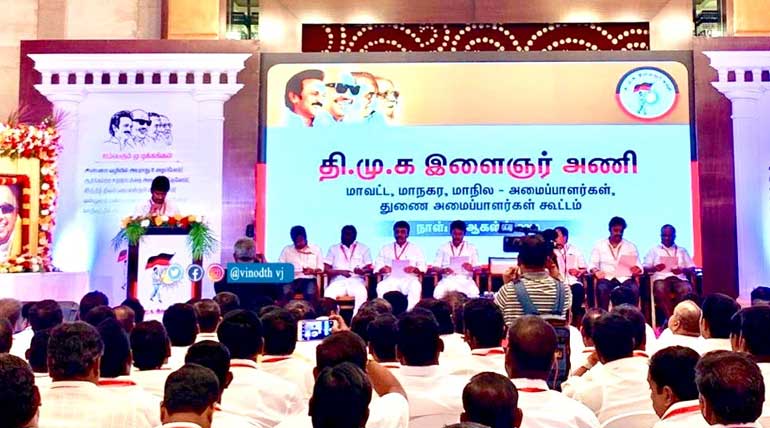 Udayanithi Stalin conducts DMK youth wing meeting in Chennai now
Udayanithi Stalin, after becoming the Secretary of the DMK youth wing, conducts the first DMK youth wing meeting of its office bearers in Chennai now. There were 12 declarations announced by him aiming to increase the youth presence in the DMK party. 477 youth wing office bearers are attending the meeting in a five-star hotel in Guindy, which was arranged by Udayanithi Stalin's personal money.
Younger Stalin starts with style the DMK youth wing meeting in a five-star hotel:
Udayanithi Stalin, who recently became the youth wing Secretary of DMK party, wants to infuse young blood to the more than 50 years old DMK party. He wants to add a minimum of 30 lakh youth into the party within three months. He requested all the office bearers of the youth wing meeting now going on in a five-star hotel in Guindy to do this inclusion drive from September 14th to November 14th. This is one of the 12 declarations of the youth wing meet today. He was welcomed by Ma. Subramaniam, MLA and South Chennai district secretary of DMK.
What were the other important declarations of the DMK youth wing office bearers meet in Chennai?
Udayanithi read in total 12 declarations of which the other important one is to change in the age of the youth wing members from the existing 15 – 30 years to 18 to 35 years. He also requested that all the new youth members to be given DMK photo ID cards as soon as possible. Out of the 30 lakh new members to be joined, he requested the office bearers to join a minimum of 10,000 youth per assembly constituency. A grand youth wing meeting is to be conducted after youth wing meetings every three months of all zones.
DMK youth wing to oppose the new education policy:
The other crucial declaration is to oppose the new education policy of the central government. Udayanathi Stalin also declared that the move of the state and central government's decision to give the public sector and other department jobs of state government quota to other states should be opposed. He wanted all the youth wing members to clean the lakes in their respective places to improve water facility.
The meeting is to conclude around 5 PM today, and it seems that Udayanidhi Stalin is up on the move to bring in the fresh air into DMK by way of young blood infused into the party.
Udayanithi Stalin 1st DMK Youth Wing Meeting in Chennai