ads
UP once again brings back Modi as Prime Minister
Vijayan Sankar (Author)
Published Date :

May 23, 2019 22:34 IST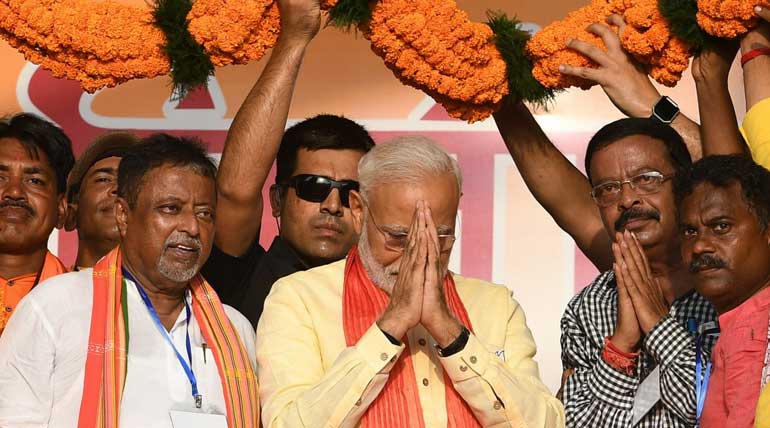 Even by exit poll predictions, this is far high. The much talked about mahagathbandan of SP-BSP-RLD have to be satisfied with only 15 seats. As per the caste equations they were supposed to get a minimum of 40 seats. Even in some exit poll predictions, it was confirmed. But it is a big blow to the duo of Akhilesh and Mayavati.
What went wrong in the UP elections: With a lot of time left for the elections, the SP-BSP-RLD announced their mahagathbandan far earlier. They wontedly omitted Congress with the confidence of winning with their alliance. Mayavathi was talking about becoming prime minister even though she did not win one seat in the 2014 elections. Congress waited till the last minute and brought Priyanka Gandhi to be in charge of east UP. Whatever the votes got by Congress should have been gone to the mahagathbandan. It could be the main reason for BJP to lead in 60 seats.
Rahul Gandhi trailing by 5,000 votes behind Smriti Irani in Amethi: The Congress bastion of Amethi may be lost by it in this election. It could be the worst setback for Congress than anything else. Though Rahul is comfortably winning in Kerala, it could be the reason for his trailing in Amethi. The campaign of Rahul ran away to Kerala by Smriti Irani must have reached the Amethi people. But Sonia Gandhi will comfortably win in Rae Bareli with a leading of 75,000 votes.
Big wigs win & losses in UP: Menaka Gandhi is trailing behind her opponent. Home minister Rajnath Singh, Hemamalini, Santhosh Kangar, and Manoj Sinha are all leading with comfortable margins. Similarly, in SP Mulayam Singh Yadav, Akhilesh, and Azam Khan are all leading in their constituencies. Prime Minister Modi is leading by 3 lakh votes in Varanasi.
A lit bit of patience by Mayavati and Akhilesh to accommodate Congress could have saved face for them with more number of seats in UP.
UP once again brings back Modi as Prime Minister