Vaiko, Thirumavalavan comment on the success of the BJP
Karthik Rajkumar (Author)
Published Date :

May 25, 2019 05:30 IST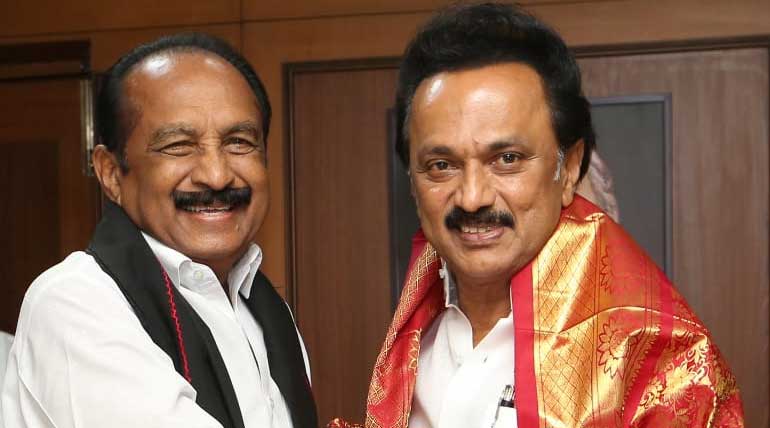 Vaiko, Thirumavalavan comment on the success of the BJP, The Erode parliamentary constituency has been allocated to the MDMK which is one of the major parties in the DMK coalition in the concluded parliamentary elections. MDMK candidate Ganesamurthi contested here and won by high marginal votes.
Following this, DMDK General Secretary Vaiko met the DMK leader Stalin at Anna Arivalayam to congragulate him on the tremendous victory registered the party. After which, Vaiko told the reporters, Though the Bharatiya Janata Party can penetrate into most of India's major states, it has been proven once again that it cannot penetrate into the Dravidian Fort, Tamil Nadu. Furthermore, millions of people in Tamil Nadu are hoping that the Dravida Munnetra Kazhagam can only fulfil their needs. The election results also have conveyed the same. He also added that the days of the ruling AIADMK led by Edapadi Palanisamy are counted and MK Stalin would soon become the chief minister of the state.
Notably, an agreement has been made with DMK to provide a Rajya Sabha member to the MDMK in the upcoming Rajya Sabha election in June.
Also, VCK Leader Thirumavalavan, who has contested in Chidambaram Constituency has won by a few thousand votes overcoming the tug level.
Meanwhile, the BJP spokesperson, Tamilisai Soundararajan has teased the victory of DMK alliance saying that they would not do anything innovative in the Parliament and at the max, they would walk out for any burning issues. In response to this, Thirumavalavan said that they were just babbling as they couldn't bear the defeat in Tamil Nadu.
He also recalled that she had been repeatedly saying that the "lotus" would blossom in Tamil Nadu already knowing that it would not happen in the election. He explained that Lotus can blossom only in the pool and puddles and not in the Tamil land.
Furthermore, if the coalition in other states is in favour of supporting the Congress like the coalition in Tamil Nadu, the BJP could have run away. Since it was not so, the BJP's anti-voting bank got scattered leading to its individual majority. Similar such circumstance was seen in the 2014 election. In addition to this, the voting machines have not been properly handled by the electoral officers of the Election Commission in the North.
Not only Tamil Nadu, but also in Kerala and Andhra Pradesh, the central ruling party BJP get a complete whitewash. Their slander campaigns in these states haven't come fruitful to them. He added that Tamil Nadu is the soil for social justice celebrating leaders like Periyar. He insisted that the people of Tamilnadu again reiterated that the caste and religious fanatics can never win in this soil. He also thanked the people of Tamilnadu for making his party candidates win the parliamentary constituencies.