ads
Assembly Election 2019: Vikravandi and Nanguneri ADMK candidates were honored
Anusha Sathish (Author)
Published Date :

Nov 01, 2019 14:28 IST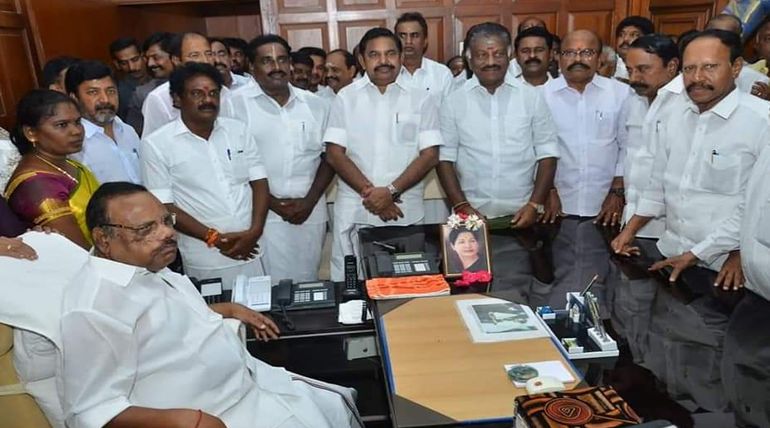 Assembly election winners of the ADMK party from Vikravandi and Nanguneri are being honored: ADMK party celebrated this victory as the milestone victory as of late the party did not touch the success much. Even in the parliamentary elections, ADMK failed to clinch the win.
Amidst all these, the progress in both the constituencies came as green shoots to the party. The constituency winners are being honored the Member of Legislative Assembly (MLA) position. The speaker of the Legislative Assembly, P. Dhanapal, has headed the oath taken by both the members from the respective constituencies. With this, the number of members from the ADMK party in the Loksabha has increased from 122 to 124.
The election has happened in both the constituencies on October 21st, and the counting got over on October 24th. From Nanguneri, ADMK candidate Narayan secured 95,377 votes against his close competent from congress Manoharan, who secured 33,455 votes. Intoto, the constituency recorded 1,70,680 votes. The difference is huge, and it's a major victory for ADMK.
In the same way, Vikravandi constituency candidate from ADMK party Muthuselvan secured 1,13,766 votes against his closest competent from DMK party Pugazhendhi who secured 44,924 votes. Indeed, a commendable difference in both cases. ADMK is getting recognized after a "Cool off period."
The Chief Minister of Tamil Nadu Edappadi Palaniswami also honored both the MLAs' by draping them with a shawl (a token of great respect and honor). Along with the CM, Deputy Chief Minister O. Panneer Selvam, Deputy speaker Pollachi Jayaraman, senior leader Thambi Durai were also witnessing the occasion.
The oath should have been taken on October 29th, but due to the deep hole borewell, Surjith, incident, the ruling government ADMK became too attuned. So, they were unable to focus on this. Hence it has been postponed to November 1st, and the same has happened today.
Assembly Election 2019: Vikravandi and Nanguneri ADMK candidates were honored