Violence Between BJP and TMC Congress Supporters in Kolkata
Prakash Jayaram (Author)
Published Date :

May 15, 2019 17:24 IST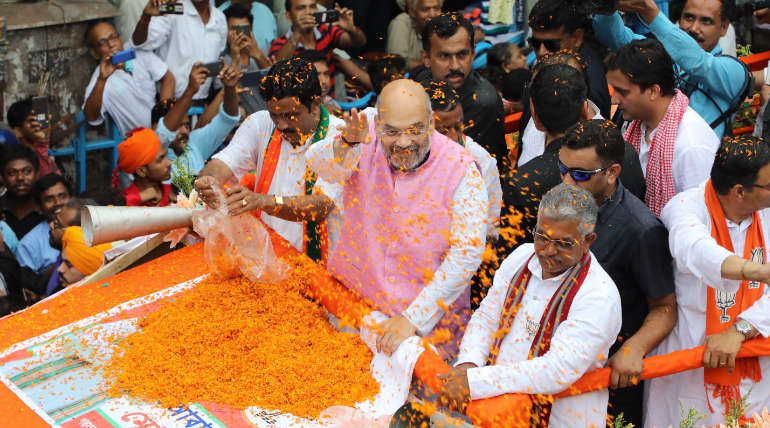 Violence between BJP and TMC Congress supporters in Kolkata
During a BJP rally in Kolkata BJP supporters and TMC supporters clashed forcing the police to Lathi charge to control the situation.
The president of the Bharatiya Janata party came to a big campaign rally in Kolkata to make a statement that they are not afraid of Mamta Banerjee in West Bengal. The clash between BJP and Mamta Banerjee is well known and has become evident by the riots during the rally.
Stone hurling
When the rally reached Vidya Sagar College the TMC and Marxist parties were showing black flags to Amit Shaw, followed by slogans against BJP. Then things got worse when someone threw a stone into the rally crowd which sparked a violent chain of events. Many vehicles were burned and shops were vandalised. Before the situation got worse Amit Shah escaped unscathed but had to finish his rallying for the day.
The most dangerous person they will see
After the riot, both sides blamed the other for the incident with Amit Shah accusing Mamta of inducing violence. Many videos went viral on the internet showing BJP supporters burning the vehicles. Amit Shah criticised the media as being biased and accused them of being the right hand of Mamta Banerjee. He said that he was scared as the TMC supporters were trying to hurt him and the
police were doing nothing but watched as the violence grew. Mamta responding to his accusations said that it was actually BJP that concocted this plan to gain attention and blame TMC Congress. She also threatened that if anyone tries to corrupt the core of
Bengal she will be the most dangerous person they will see.
Outsider Amit Shah
"I'm an Indian and came to Bengal which is an Indian state, but still I'm being called outsider in my own country" said Amit Shah replying to Mamta's statement saying Amit Shah being an outsider in Bengal who doesn't fit in the state and tries to corrupt the state's ideals with Hindu nationalism.