ads
Voting at snail pace in Vellore MP constituency by-elections today
Vijayan Sankar (Author)
Published Date :

Aug 05, 2019 18:01 IST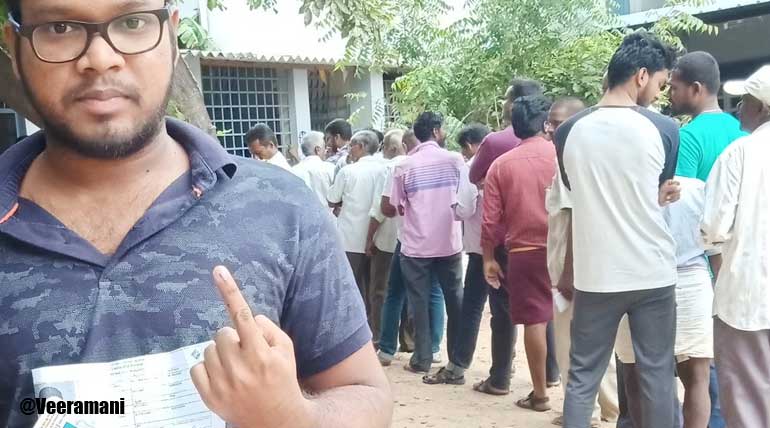 Voting at snail pace in Vellore MP constituency by-elections today
As per the voting count at 1 PM, the Vellore constituency recorded only 29.48 % voting. It is far below the voting pattern of the recently concluded MP elections on April 18th. The lacklustre voting interest among the people of the six assembly constituencies of Vellore MP Constituency is a bad sign for democracy.
Voting percentage on April 18th and today's percentage:
The voting percentage in the 2019 MP elections in Tamil Nadu was 72.49 %. It is already less 1.17 % than the 2014 MP elections which recorded with 73.68 %. Now with less than 30 % until 1 PM it is set to record less than 60 % for the remaining day till 6 PM. It is a bad sign for the democracy of the voting percentage decreasing with every election in Tamil Nadu.
Assembly constituencies and their voting percentage in Vellore:
Vellore - 24.7 %
Anaikattu - 27.4
K V Kuppam - 30.7
Gudiyattam - 32.4
Vaniyambadi - 30.4
Ambur - 31.4
The reasons for the drop in voting percentage by Vellore people:
The elections to Vellore MP Constituency was countermanded just two days before the general elections. It was for the first time in the history of Election Commission to countermand an MP election for the reason of the excess of money seized by it. The voters of Vellore did not show much enthusiasm today as the Tamil Nadu people have already given the verdict. It was a clear cut mandate in favour of DMK, which won 37 of all the 38 seats. The whole of the nation except Kerala and Tamil Nadu has already given a clear mandate to Modi and BJP.
Hence the election has become a mere formality for the Vellore voters.
Voting at snail pace in Vellore MP constituency by-elections today