ads
With Overwhelming Majority BJP Struck Grand Slam in Karnataka Elections 2019
Anusha Sathish (Author)
Published Date :

May 23, 2019 17:58 IST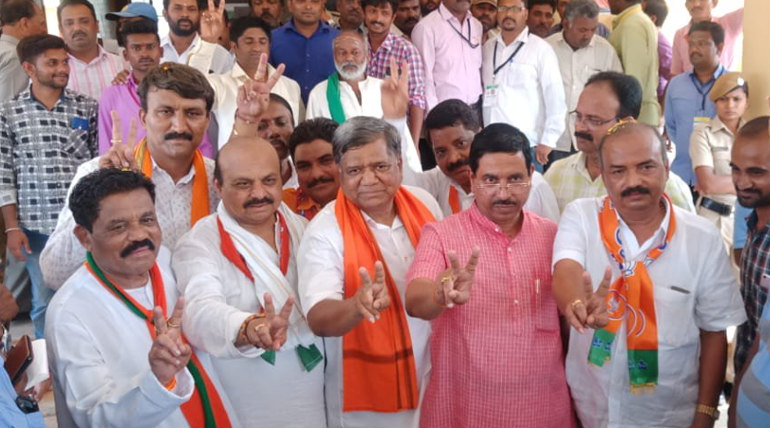 It is a saying that BJP has a majority in North India and it has to walk on eggshells in south India. This election disproved it and BJP has struck the chord with a huge lead in Karnataka over the Congress and Janata Dal-Secular alliance. There were 28 seats and BJP ranked majority in 24 seats. It is more than a landslide. The Congress and JD are ahead only in 4. The congress and JD were arch rivals but they have allied this time to prove its majority over BJP. But the fate has something else in store and BJP blows its triumph in this state.
Among the important candidates, BJP's Tejasvi Surya is taking a lead from Bengaluru south constituency against Congress's B.K. Hariprasad. The coalition between Congress and JD has run a flop show in spite of repeated squabbling. The alliance accused BJP of inducing violence and defections and tries to destabilize it. Notwithstanding the odds, the party leaders tried to float the alliance intact. The internal complications and scrambling for solutions consume the productive time for planning. Amidst this allegation, BJP's tallest leader BS Yeddyurappa told that today's result was due to the pride of JDS and Congress.
"History is created again and people who spoke ill about the Prime Minister, earns now what they deserve. People like Siddaramaiah and importantly Rahul Gandhi should apologize for their deed and this what I look for," he reiterated. It is reported that the Karnataka victory is a historic high for BJP and historic low for congress. To special mention, BJP's first time MLA turned MP candidate Dr Umesh Jadhav defeated congress floor leader Mallikarjuna Kharge in congress stronghold region of Gulbarga. "Congress got destroyed in Karnataka," cheered the BJP leader.
With Overwhelming Majority BJP Struck Grand Slam in Karnataka Elections 2019