Yeddyurappa to Take Oath as Karanataka CM at 6 PM Today
Vijayan Sankar (Author)
Published Date :

Jul 26, 2019 18:09 IST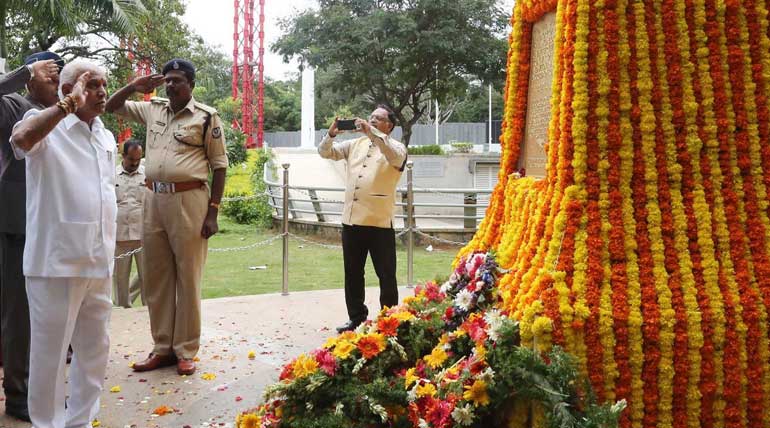 Yeddyurappa to take oath as Karanataka CM at 6 PM today
BS Yediyurappa has met the Governor in the morning and is all set to take oath for the fourth time Today as Karnataka Chief Minister at 6 PM today, i.e., 26th July.
The former CM Siddaramaih had questioned the Governor of calling a party without a majority to form Government. He also said Karnataka had become an experimental lab for the BJP.
Yediyurappa and not Yeddyurappa from today:
Yeddiyurappa, check again it is Yeddiyurappa and not Yeddyurappa is to take oath for the fourth time as Karnataka Chief Minister. All his previous three attempts were not so successful.
Two times he was not even CM for a week. And for one time he was CM for only three years. Hence Yeddyurappa has changed his name to Yeddyurappa as per the astrologers' advice.
Also, today, the perfect time of 6 -6:15 PM is selected by him and got permission from Governor Vajubhai Vala. He has also given him time till 31st July to prove his majority on the floor of the house.
Speaker Ramesh disqualifies three rebel MLAs:
In the meantime, Speaker KR Ramesh who was given the liberty to decide on the fate of the 15 rebel MLAs disqualified three of them yesterday. The future of the other MLAs is yet to be determined.
But the speed with which the BJP acted from yesterday after getting the nod from the BJP high command in Delhi yesterday is tremendous.
Yediyurappa being the opposition leader, did not need a legislature party meeting to decide its leader to which the Governor readily accepted.
Also, the time given is too long like that of last year when he called Yediyurappa for forming Government which was curtailed to just two days by Supreme Court.
The never-ending Karanataka political crisis is set for the next round with Yediyurappa becoming CM with only 105 MLA in a 225 member Karnataka assembly.
The political circus is going to be more entertaining with the fate of the balance 12 rebel MLAs to be decided soon by the Speaker.