Chandrayaan-2: Fever Grips India - For the First Time on the Southern Pole of the Moon
Vijayan Sankar (Author)
Published Date :

Sep 06, 2019 23:55 IST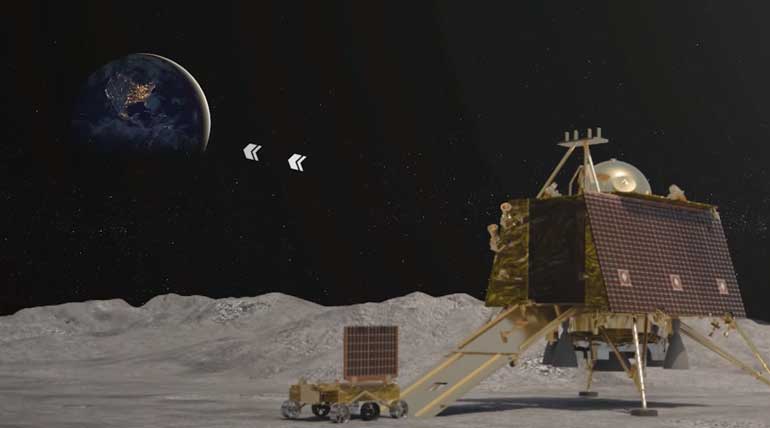 Chandrayaan-2 fever grips India: Chandrayaan-2 is all set to put feet for the first time on the southern pole of the moon. The whole nation is under the grip of Chandrayaan-2 fever. Now there are idols of Lord Ganesha in the form of Chandrayan. Sixty students selected by a quiz are accompanying prime minister Modi to Bengaluru to watch the historic spectacle live. People are praying for the successful soft land of Vikram, within hours from now.
India to make history today night in space: ISRO is keeping its fingers crossed on the soft land of Vikram lander on the moon between 1:30 to 2:30 IST. The Pragyan rover is set to roll out for the first time on the southern pole around 5:30 to 6:30 AM. An ISRO official confirmed that they are anxious but not afraid.
But why should they be afraid? Chandrayaan-1 was sent 11 years ago. It has completed all the missions that the Chandrayan2 has completed so far now. But it failed on the crucial hour of landing its lander on the moon due to technical failures. The first Chandrayaan-1 mission was aborted exactly ten years and nine days ago on 28th August 2009.
Will Chandrayan successfully cross that hard step and step into the moon? It is the billion peoples' question which will be answered at around 1:30 to 2:30 AM now.
Where to watch Chandrayaan-2 land on the moon? Sure, you cannot be able to see it with your naked eyes.
But you can watch history happen within hours from
Doordarshan is telecasting live from 1:10 AM
Twitter, Facebook and many social media platforms are streaming it live
Many news channels will telecast live of the lunar landing for the first time
Hope the billion people prayers and wish along with the hard work of the 1000 crore dream and 3.81 lakh journey completes successfully within hours from now.
&nbsp
Tags :&nbsp
Countdown to Chandrayaan-2
,
Chandrayaan-2 landing time
,
Chandrayaan-2 Moon photos
,
Chandrayaan-2 latest news
,
How to watch the Indian moon landing
,
How to watch the Chandrayaan-2 moon landing
,
pragyan chandrayaan 2
,
chandrayaan 2 lander name
,
chandrayaan 2 speed
,
chandrayaan 2 rover name
,
about chandrayaan 2 in english
,
chandrayaan 2 landing date on moon