Gsat-30 Launched: Know all facts about ISRO first satellite GSAT–30 of 2020
Vignesh Subbaian (Author)
Published Date :

Jan 17, 2020 09:57 IST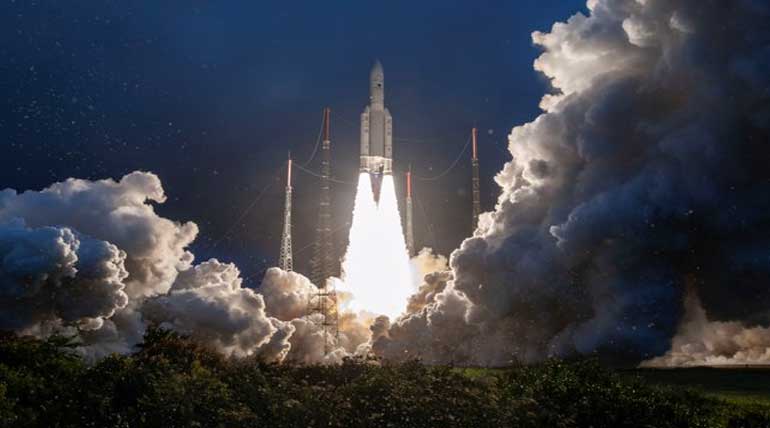 Know all facts about ISRO first satellite GSAT – 30 of 2020: ISRO kick starts 2020 with its successful GSAT-30 launch today, January 17. With a life span of 15 years, it is an operational communication satellite for television uplink, DTH, and VSAT services. GSAT – 30 was injected into the geostationary orbit by the Ariane 5 vehicle of Arianespace, a European space consortium, from Kourou in the Guiana French territory in South America at 2:35 AM.
P.Kunhikrishnan, the director of ISRO's UR Rao Satellite center who was present at Kourou, said the launch of GSAT -30 is an excellent start for ISRO to 2020. He congratulated the mission team. He also said that the team at the master control facility would immediately complete the post-launch operations.
Stephane Israel, the CEO of Arianespace, confirmed the successful launch of GSAT - 30 launches. He also said Arian 5 successfully deploying GSAT -30 was a strong start for 2020. He appreciated the trust of ISRO from 1981 when India's APPLE experimental satellite launched on Ariane Flight L03 to the GSAT-30, which is the 24th ISRO satellite.
Facts of GSAT-30
It weighs 3,357 kilograms and deployed from VA 251, which is the lower passenger position of Ariane 5 launch vehicle into the GTO or the geostationary transfer orbit.
ISRO's enhanced 1-3K Bus structure for providing communication services from GTO in C and Ku bands
It derives its heritage from the previous ISRO's INSAT/GAST satellite series
It will serve as a replacement to INSAT – 4 aging spacecraft services with advanced coverage
It will provide coverage of Indian inland, and islands coverage in Ku-band extended coverage in C-band Gulf countries, and also in Australia and a large number of Asian countries.
Its mission life as an operational communication satellite is 15 years for VSAT or minimal aperture terminal services, DTH or direct to home services, DSNG or digital satellite newsgathering, television uplink, teleport services, and many others
The communication payload of GSAT -30 has a specific design to increase to the maximum number of transponders on the spacecraft bus.
One of the Ku-band beacon down signals is transmitted to enable ground tracking purposes.