Keezhadi proves to be the best in the excavation-6th phase of research
Anusha Sathish (Author)
Published Date :

Sep 20, 2019 16:36 IST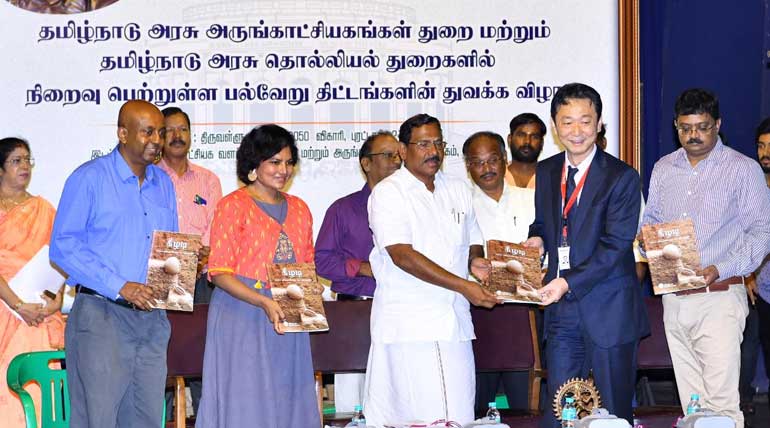 Keezhadi proves to be the best in the excavation-6th phase of research will commence soon joining hands with international archeological universities: Department of Archeology and Tamil Language and Culture minister Mafoi Pandiarajan has opened the exhibition of Chariot sculptures organized in Egmore museum. In the same event, he released the books and C.D.s pertaining to archeology. Speaking to media, Pandiarajan said, "By joining hands with international universities of archeology the sixth phase of excavation process will be started soon in Keezhadi.
Kerala government joined hands with oxford university in the excavation process to know more about Chera king's ports. Having said that, we are currently contemplating on Kezhadi excavation's sixth phase and the international universities we should pitch for, seeking support. Among many other exhumations, Keezhadi is the biggest one to underline.
Keezhadi is in the banks of river Vaigai, and its civilization is the best to endorse during Sangam age. Those which are excavated so far have been sent to international research labs for study. Carbonate and its minerals are researched in Beta Scientific Research Lab in Florida. Italian university named Pisa at its Department of Earth Sciences researches about the earthen pot tiles. Deccan University in Pune researches about bones.
This process of exhumation brings into the picture that brick houses were existing during Sangam age, i.e., 6th century B.C. Organic research shows Tamil names like Aadhan, Kuviran inscribed on the pots. With the bone excavation, it is construed that cow and bull were used for agriculture. Also, Sangam age people were educated, which is known from the letters inscribed.
Golden ornaments, golden comb, red pot, black pot, and earthen pots were found. Dice, human body, human head, cattle head were also excavated. Much more in cards but looking forward to joining hands with the reputed universities in order to make use of the unearthed treasures positively and productively.
\