ISRO officially confirmed Orbiter of Chandrayaan-2 Located Vikram Lander
Anusha Sathish (Author)
Published Date :

Sep 10, 2019 14:51 IST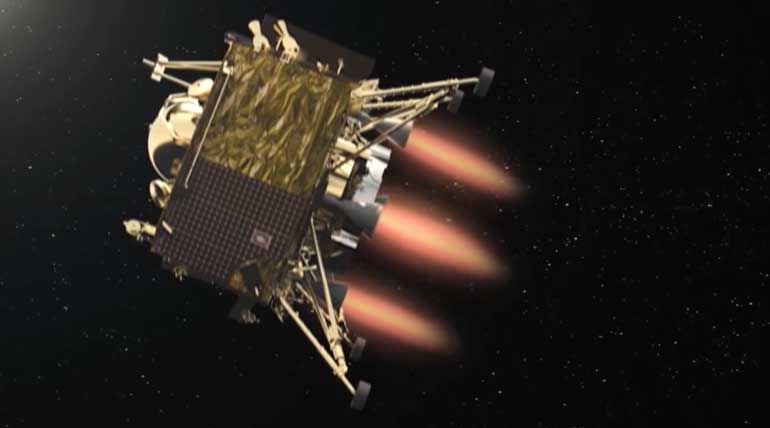 "Chandrayaan-2" mission can be equated to a nail-biting cricket match. To that extent, entire India was thrilled to see the lander Vikram alighting on the moon. The distance between the earth and the moon is 3,84,000 Kilometres, and till 3,83,998 Kilometres everything went on perfectly. Unfortunate to us, we lost the signal exactly before 2 Kilometres, and it was an embarrassing moment for Sivan, the ISRO Chairman and disappointing minutes for the whole country. But now there is an official announcement that orbiter spotted Vikram, but it is yet to confirm whether it is a soft landing or hard landing. If it is a hard landing, then Vikram would have got crashed, and revival is a million-dollar question.
Within 14 days, the orbiter should establish the connection for further experiments. Otherwise, lander Vikram cannot be revived. It is said that ISRO is trying to put their best to revitalize Vikram. It is even planning to reduce the orbiter's orbit; but according to ISRO official, this reduction of the orbit is a dangerous idea to pursue as it may pick weak signals but cannot revive Vikram. Consumption of fuel will be high to maintain the lowered orbit. Anyways the only option left is to welcome the critics with glee.
ISRO, on the other side, is trying now to continue with its experiments. It hardly has 14 days. Why is it just 14 days for us to either do or die? One moon day is equal to 29.1 earth days. Vikram landed during the daytime of the moon, and it can survive and research only during day hours. During the night, the moon temperature will go up to "-70" degrees and Vikram cannot withstand the same. Hence before twilight or night of the moon, the mission should be completed. Scientists from other countries are encouraging us to continue the mission with revitalized energy. Operations are in full swing in ISRO. The total cost of the Chandrayaan-2 project is Rs 900 crore, and only 10% of the cost is pertaining to Vikram's research. Orbiter with the fuel can revolve the moon for the next 7.5 years and a lot to be discovered about the moon. Hence it is underlined to all social media trollers and meme creators that Rs 900 crore has not gone futile.
&nbsp
Tags :&nbsp
Chandrayaan-2 Latest update
,
Chandrayaan-2 signal lost before 2km
,
Chandrayaan-2 mission failed or success
,
Chandrayaan-2 landing time
,
Chandrayaan-2 latest news
,
Chandrayaan-2
,
Orbiter Located Vikram Lander
,
moon to earth distance
,
One moon day is equal to how many earth day
,
What is ISRO next plan on Chandrayaan-2
,
What is ISRO next plan on vikram lander
,
When is Chandrayaan-3 project begins from ISRO
,
Indian Space Research Organisation (ISRO) News