Chandrayaan-2: Sivan Emotionally Breaks Down, PM Narendra Modi Consoles with hug
Vijayan Sankar (Author)
Published Date :

Sep 07, 2019 11:43 IST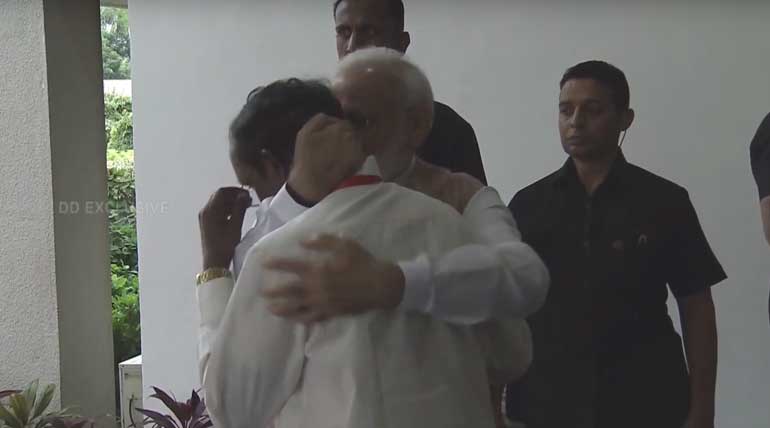 Emotional Sivan breaks down before PM after Vikram's failure to land in Moon : Chairman of ISRO, recent recipient of Abdul Kalam Award, Scientist K.Sivan was all tears hugging Prime Minister Narendra Modi. It happened at the meeting of PM Modi with the scientists after the failure of Vikram to land in Moon. Prime Minister Narendra Modi was consoling all scientists and finally was having a word with Sivan when he broke down. Prime minister Narendra Modi hugged him and patted his shoulders with some consoling words. That is a very moving sight for anyone today after the sad news of Chandrayaan-2.
But why should Sivan be so emotional? Chandrayaan-2 Space mission was a pet project of this great Tamil scientist Sivan - on the footpath of Abdul Kalam. Abdul Kalam and Sivan come from a low-income background with not much educational support. But both shot up to fame with their interest and hard work for space research. Only yesterday evening he said that Chandrayaan-2 is like a newborn baby and needs to be taken care of in the moon landing. He referred not only Chandrayaan-2 as a newborn baby for technical reasons but also as his baby. But when it failed he has nothing to do but cry.
Is Chandrayaan-2 not landing on Moon a big drawback for Sivan? Though Sivan was emotional and in tears because of Chandrayaan-2 fate, it is not a failure for him due to the following reasons:
ISRO only being the fourth country in the world and not as experienced as others chose the tough path of landing on the southern pole of Moon.
When the only three others and being superpowers of the world, chose to land in safer northern and equatorial parts of the Moon. The ISRO's bold decision of landing on the southern pole is itself a victory.
With not much help from the superpowers, a developing country like India, choosing the untouched lunar space is more of courage and dedication than to prove its worth.
When even for the lunar experienced G7 superpowers Russia, US, and China did not risk landing on the southern pole of the Moon. India's courage on trying it is already a victory.
Constrained with a budget, technical and other issues, sending Chandrayaan-2 with less than Rs. 1000 crore budget is itself an achievement. The other three countries spend many times more than this amount.
After all, the whole mission is not a failure with Chandrayaan-2 orbiter is safe and secure in space, continuing its functions for one more year.
People like great scientist K. Sivan being emotional on the failure before the glaring international media also confirms, humanity is still living in this world.
&nbsp
Tags :&nbsp
Countdown to Chandrayaan-2
,
Chandrayaan-2 landing time
,
Chandrayaan-2 Moon photos
,
Chandrayaan-2 latest news
,
How to watch the Indian moon landing
,
How to watch the Chandrayaan-2 moon landing
,
pragyan chandrayaan 2
,
chandrayaan 2 lander name
,
chandrayaan 2 speed
,
about chandrayaan 2 in english
,
chandrayaan 2 rover name
,
chandrayaan 2 landing date on moon
,
Vikram Successfully Landed on Southern Pole of the Moon