Madhusudhanan Death: CM MK Stalin Tribute to Minister Madhusudhanan
Vignesh Subbaian (Author)
Published Date :

Aug 06, 2021 10:22 IST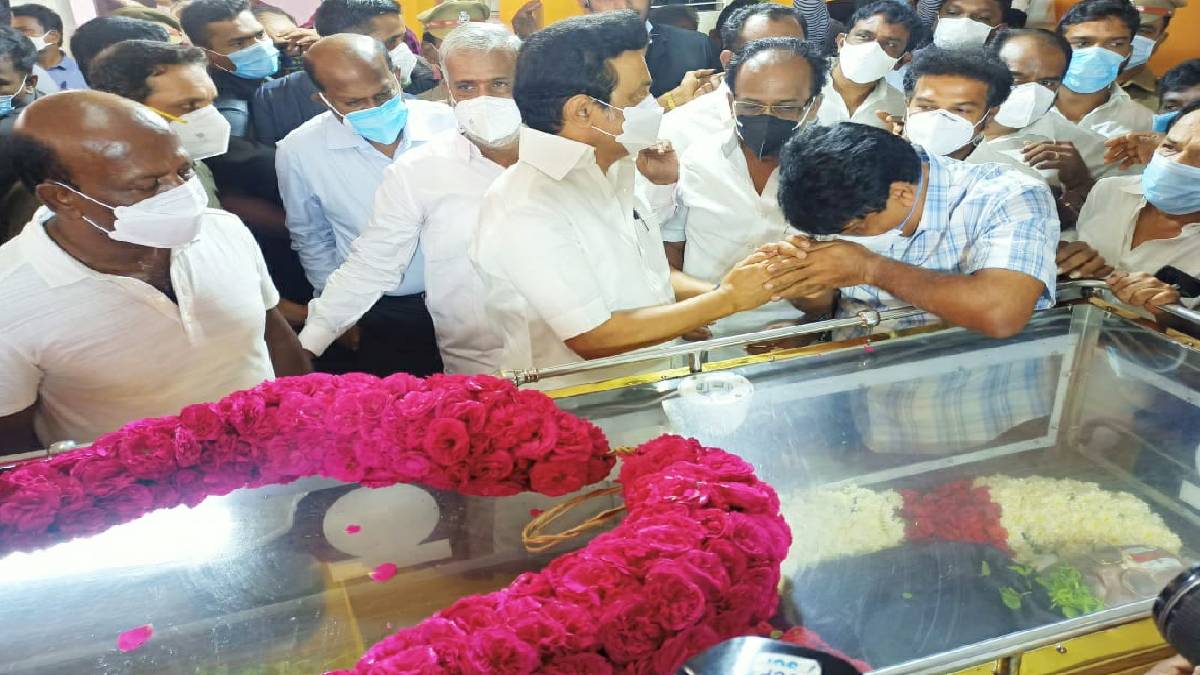 Chief Minister MK Stalin paid homage to the body of A.I.A.D.M.K. leader Madhusudhanan. Tamil Nadu Hindu Charities Minister Sekarbabu paid tearful tributes to the Madhusudhanan body.
Former A.I.A.D.M.K. minister and leader Madhusudhanan passed away yesterday due to ill health. He had been suffering from poor health for the past few months and returned home in good health. In this condition again, he was admitted to Apollo Hospital in Chennai recently due to ill health.
He was treated with a ventilator and died last evening. Various political party leaders, including Chief Minister MK Stalin, A.I.A.D.M.K. coordinator O. Panneerselvam, Leader of Opposition in the Tamil Nadu Legislative Assembly and joint coordinator of A.I.A.D.M.K. Edappadi K. Palaniswami has expressed condolences over Madhusudhanan's death. Madhusudhanan went to jail for protesting when M.G.R. was removed from D.M.K.
He has fought for the party many times and has been imprisoned 48 times. He has been the A.I.A.D.M.K. leader since 2007. Madhusudhanan was a faithful volunteer who sang the praises of M.G.R., Jayalalithaa and A.I.A.D.M.K. for 70 years.
A.I.A.D.M.K. joint coordinator Edappadi Palanisamy has stated the death of A.I.A.D.M.K. leader Madhusudhanan, saying that Madhusudhanan's death is a disaster not only for a disaster the party but also for Tamil Nadu." Madhusudhanan's body was taken from a private hospital to his home in Tondiarpet, Chennai, at around 3 am today. His body has been laid to rest for public homage.
Many dignitaries have come in-person to pay their respects. A.I.A.D.M.K. district secretaries, party coordinator O. Panneer Selvam and deputy coordinator Edappadi Palanichamy paid homage to Madhusudhanan's body. In this situation, this morning, the Chief Minister of Tamil Nadu MK Stalin went to Tondiarpet and paid homage to Madhusudhanan's body. Ministers Ma Subramaniam and Sekarbabu accompanied him and paid tributes.
மறைந்த அ.தி.மு.க. அவைத் தலைவர் திரு. மதுசூதனன் அவர்களது உடலுக்கு இறுதி மரியாதை செலுத்தினேன்.

அவரது பிரிவால் வாடும் அவரது குடும்பத்தினருக்கும் அ.தி.மு.க. தொண்டர்களுக்கும் எனது ஆழ்ந்த இரங்கலைத் தெரிவித்துக் கொள்கிறேன். pic.twitter.com/F08brI1Oz4

— M.K.Stalin (@mkstalin) August 6, 2021