3 Students Killed After Wall Collapsed In Schaffter School Tirunelveli
Vignesh Subbaian (Author)
Published Date :

Dec 18, 2021 10:37 IST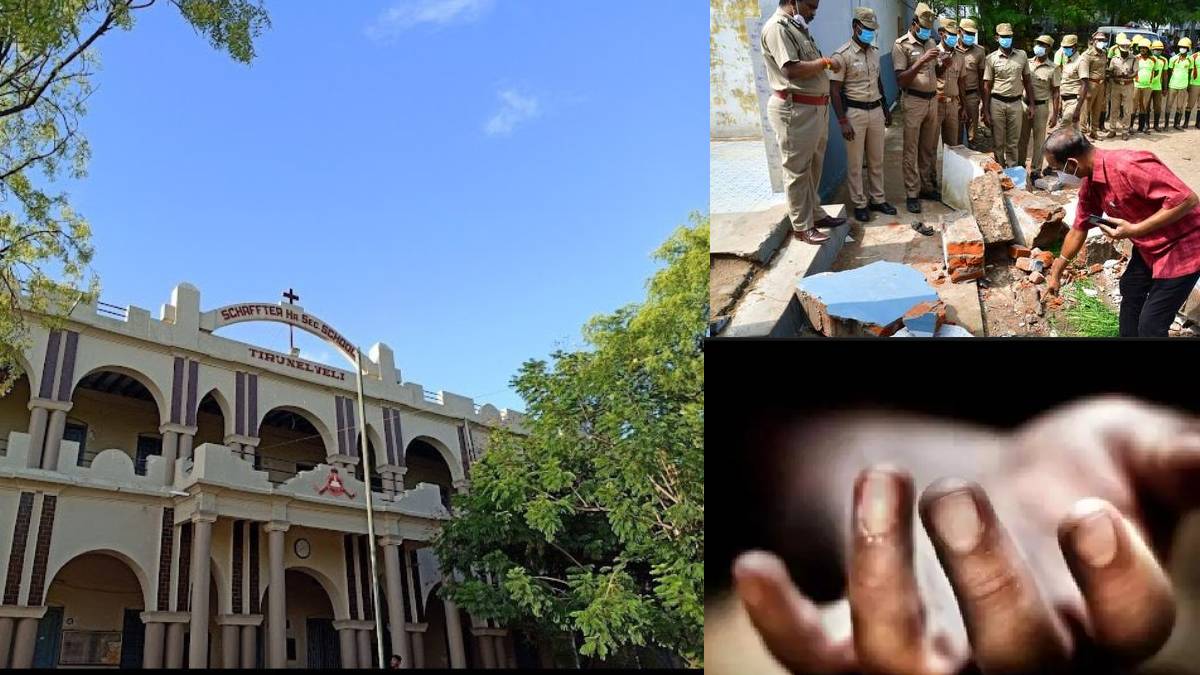 Three students were killed when the toilet wall of a Schaffter Higher Secondary School in Nellai collapsed. The school's administrator, headmaster and contractor have since been arrested. Due to the need to carry out inspections at the school, the holiday is announced today until further notice, the Principal Education Officer said.
Three students were killed when the perimeter wall of a Schaffter Higher Secondary School building collapsed in Nellai, causing great grief and shock. Another two students have been admitted to the hospital with serious injuries.
The students went into the bathroom during their interval before the meal break at 11 am yesterday. Several students were standing inside the bathroom, and several more students were standing near the cover wall outside the bathroom. Just then, the wall-building suddenly collapsed. Thus the students screamed and tried to run away.
The wall, which was about 10 feet high, collapsed, and a loud noise was heard. The students who were standing outside were shocked and went there. It was then revealed that the students were trapped inside the wall breaks. The teachers were informed about this. Upon learning of the information, firefighters and police rushed to the Schaffter Higher Secondary School.
When the remains were removed, it was revealed that seven students were trapped in it. The students were rescued from there. At that time, two students, Karthik's son Anpalagan (age 14) from Satya Nagar, Dinakaran's son Viswaranjan (13), were killed.
Sudesh (11), son of Ramachandran of Nellai Palavoor Mubbudathi Amman Kovil Street, was injured. He died on the way to the hospital. Sudesh was studying 6th class. Ramachandran works as a tailor in a shop in the town.
Student Anpalagan was studying 9 `B 'class, and Vishwaranjan was studying the 8th class` A3'. Dhinakaran is working as a railway locomotive driver.
Upon receiving the information, Nellai Municipal Police Commissioner Senthamarai Kannan, Deputy Commissioners K. Sureshkumar, and the police rushed to the school. Students gathered on the road in front of the school and engaged in a protest.
The parents of the students who came to the school were shocked when they received information about the incident in which the students were killed when the school wall collapsed. They wandered here and there to find out where and how their sons were.
Nellai Junction police had registered a case regarding the incident in which a student was killed when a wall collapsed. Later, the school administrator Selvakumar, the headmaster and the building contractor John Kennedy were arrested. The investigation is ongoing.
Meanwhile, Pondicherry Deputy Governor Tamizhai Soundarajan has expressed her condolences to the families of the students who lost their lives in the incident.