Karur Police Department Conducts the 31st Road Safety Week Awareness Program
Gokul Saravanan (Author)
Published Date :

Jan 25, 2020 11:10 IST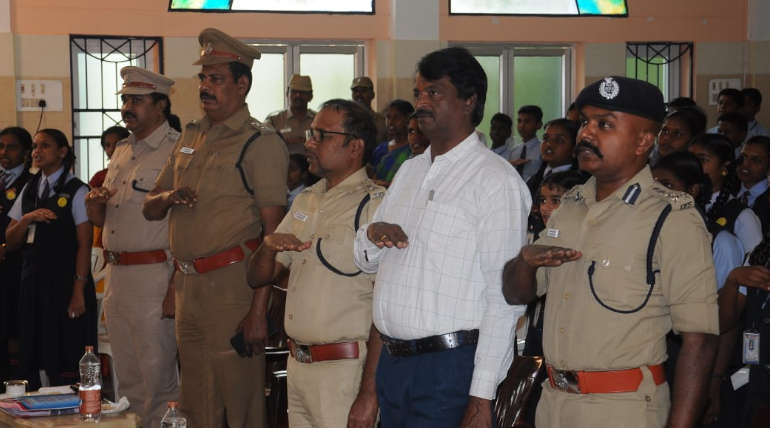 Karur Police Department Conducts 31st Road Safety Week on January 24, 2020: In a big vision to create awareness among the people and the young generation of the state, the police department across Tamil Nadu are conducting awareness rallies and public meetings for a long time. Working out for the same good cause, Karur District Police Department is working together with students and volunteers and creating awareness about the road safety along with the Kavalan SOS mobile app.
On January 24, 2020, the department conducted the fifth day of the 31st Road Safety week awareness program for the jurisdiction of the Kulithalai Traffic Control Department, in Kulithalai Karur. In the program, the DIG of Karur District, Mr. Balakrishnana IPS, and the Superintendent of the Police, Mr. Pandiyarajan, also took their parts.
As the basic concept is to create awareness about road safety, many mime and speech activities were done on the stage. Along with the police officers, many young students took part in the program and shown their talent through various activities yesterday. Other than the speech and mime activities, public rallies were also conducted under the headship of the police department of Karu district.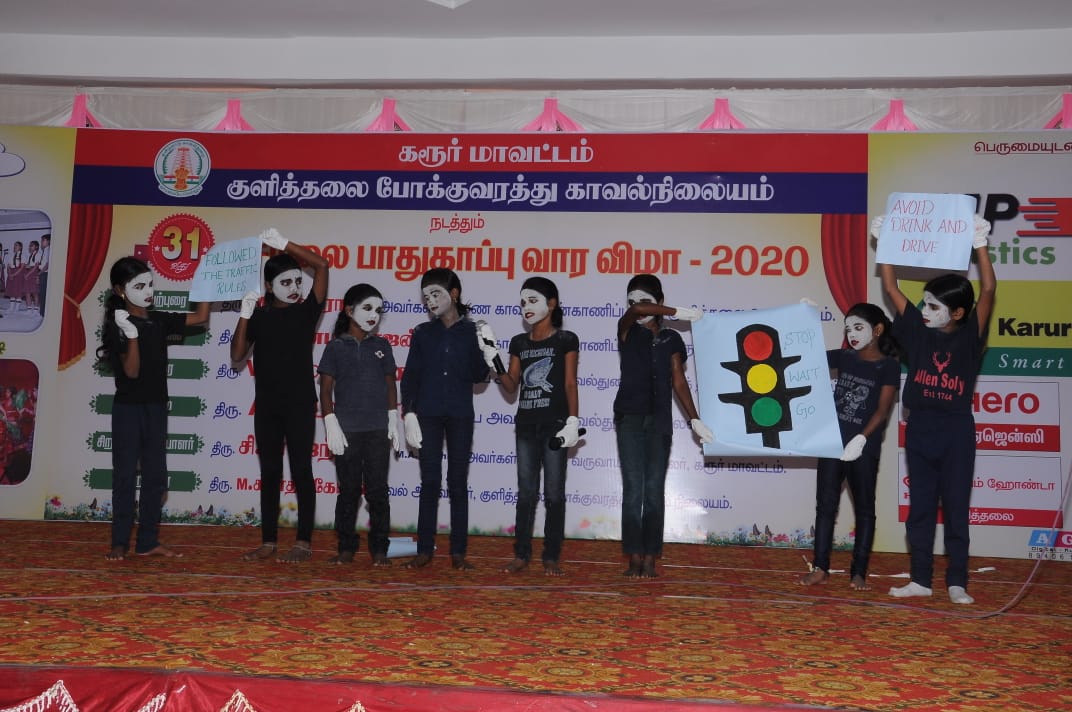 The week activity has been planned for this whole week and that started on January 20, 2020. Karus District Revenue Officer Mr. Rajendhran along with the SP of the district Mr. Pandiyarajan initiated the program.
On the second day of the program week, a rally was conducted from Prem Mahal marriage Hall to Karur bus terminus. On the third day, Minister of Transport of the state of Tamil Nadu MR Vijayabaskar initiated the medical checkup camp for the private and public drivers across the district. In the past two days, there were many awareness activities conducted for the students.
As this is a whole week program, the police department of Karur is conducting the same kind of awareness activities across the district.
A certificate of participation was also issued to the students who participated in the program. Like engaging the awareness program, the volunteers' population was mostly covered with girl students and women that too on the occasion of National Girl Child Day is another special about the 31st road safety weekend program of Karur Police department.
Such kind of awareness programs are conducted not only for the asserted theme but indirectly to create awareness about the social life and responsibility among the younger generation of the nation.