Actor Surya Against NEET : Charges Contempt Proceedings by HC
Sakthi Venkat (Author)
Published Date :

Sep 14, 2020 14:41 IST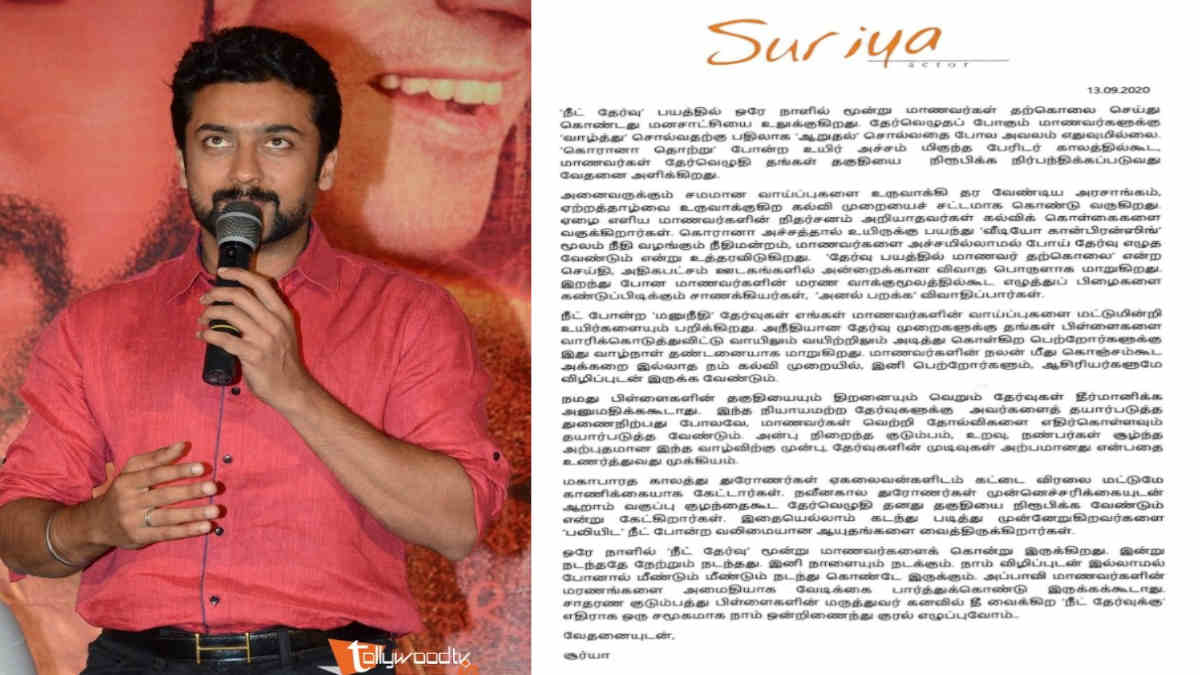 NEET exam has taken away three students' lives in Tamilnadu day before the exam. Many politicians and social activists were against NEET and requested the Centre to cancel the examination for students' sake. Lately, Actor Suriya verbalized his anger towards NEET in a press meet, and constantly criticizing and commented on the exam and the lost lives through his twitter page.
Recently, He issued a statement strongly denouncing NEET for the students' death. In that statement, he criticized Government, media, and the High Court in a full stream. He exposed his grief over the students' death and wished his condolences to their family.
In the statement, he fulminates against Court's rule to directing students to write their exams in person while they chose video conferencing for the meeting. He also compared the Mahabharata scenario to the current situation.
A few hours later, Justice SM Subramaniam wrote a letter to High Court Chief Justice AP Sahi to start off contempt proceedings against the actor Surya. The letter denotes the points which criticized the judges and the country's judicial system. He affirmed it would spoil the common confidence over the judiciary.
He also stated, "The said statement in my considered opinion amounts to contempt of Court as the integrity and devotion of the Hon'ble Judges as well as the Judicial System of our Great Nation are not only undermined but criticized in bad shape," Furthur demands Justice AP Sahi to initiate contempt proceedings against Surya.
The famous Tamil director Bharathiraja supports Surya in every issue. Now holds his back on Surya's condemns against NEET said, "Actor Surya will not go wrong and will not speak bad!".