Tamil Nadu BJP Leader: Annamalai appointed BJP As New TN BJP Leader
Vignesh Subbaian (Author)
Published Date :

Jul 09, 2021 16:29 IST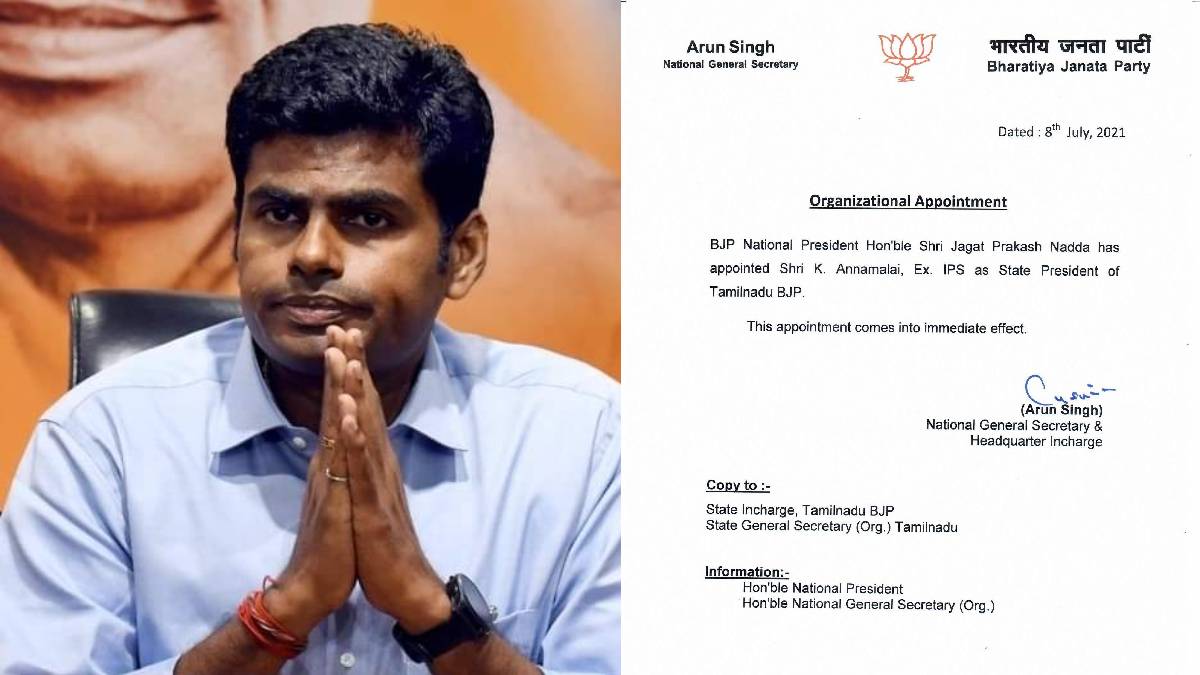 Annamalai has been appointed as the BJP new leader of Tamil Nadu. Former Tamil Nadu BJP leader L. Murugan has been appointed as the Union Minister of State for Home Affairs. Many political leaders have congratulated them for their new
Annamalai, who hails from the Karur district of Tamil Nadu, served as an IPS officer in the state of Karnataka. Annamalai became famous here after taking many action steps while he was on duty, but abruptly resigned from his post in 2019 and returned home. He joined the BJP in August last year after continuing to farm in his hometown.
In a short period of time, he gained the goodwill of the party and was appointed as the Vice President of the Tamil Nadu BJP. Following this, Annamalai responded while criticizing the opposition party with his sharp comments.
Responding to all the criticisms of the opposition party, he contested from his hometown of Karur district in the last election, and unexpectedly he lost in the election. It is also noteworthy that Annamalai lost the Aravakurichi constituency in the Assembly elections. Annamalai, who has been appointed Tamil Nadu BJP leader, has been replaced by the senior party leader.
In the last parliamentary elections in 2019, the BJP came to power for the second time in a row. No cabinet reshuffle has taken place since then. In this situation, the cabinet headed by Prime Minister Modi was reshuffled yesterday. Of these, 43 ministers took office.
Following the appointment of L. Murugan as Union Minister, the question arose as to who was the new leader of the Tamil Nadu BJP. The names of some, including Nayyar Nagendran and Vanathi Srinivasan, were hotly debated for the chance of union minister.
Annamalai, a former state vice-president of the Tamil Nadu BJP and a former IPS officer, has been appointed as the new BJP leader. BJP National General Secretary Arun Singh announced this. In his statement, he said that former IPS officer K Annamalai had been appointed as the Tamil Nadu BJP leader.
As the BJP has been honouring the two former Tamil Nadu BJP leaders with successive top posts, there has been great anticipation of who will be the next leader in Tamil Nadu. BJP national leader JP Natta has announced that he is currently the next leader of the Tamil Nadu BJP, while former IPS officer Annamalai is the most likely candidate. Greetings and praises are loading to L. Murugan and Annamalai for their prestigious posts.