Chennai Rains: Widespread Rain in Chennai, Warns RMC
Vignesh Subbaian (Author)
Published Date :

Dec 01, 2019 15:48 IST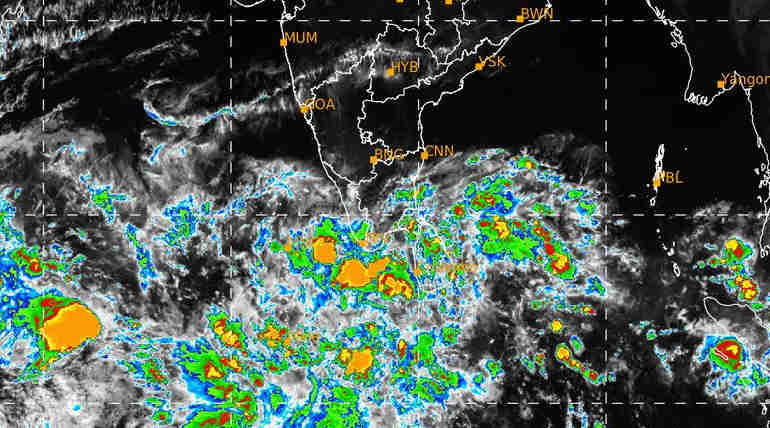 Will this December creat another 2015 flood situation for Chennai, is the big question due to heavy rains lashing Tamil Nadu
Chembrakkam lake on the outskirts of Chennai received more than 100 mm rain in one day on 30 November. Also, heavy rains are lashing across Tamil Nadu. Four people died in the delta districts in the last two days due to rain, while Thalaiganiru in Nagapattinam received 16 cm, the highest rains in Tamil Nadu.
The Union water resources ministry has advised the state government to keep round the clock check of all the dams, including Chembrambakkam dam, as a forecast of heavy rains for Tamil Nadu to continue for the next three days. It is due to the substantial damage caused in the same December in 2015, due to opening the Chembrakkam lake, to flood Chennai.
The meteorological department has forecast heavy and widespread rainfall in the Adyar, Kosthaliyar, Vellar, and Ponnar river basins. The Central Water Commission's Hydrology division has sent a communication to the chief secretary of the Tamil Nadu state government about the increased water inflow in the following water reservoirs among many others
Chembrambakkam lake
Gomukhi dam
Wellington reservoir
Satyamoorthy reservoir in Poondi
The four deaths due to heavy rains in the last two days in delta districts include
Duraikannu, 70 years old due to wall collapse in Thanjavur
Duraisamy, 50 years old in Pudukottai bazaar while driving two-wheelers in heavy rains and fell into a pit losing balance on the road
Poongothai, 40 years old disabled lady in Ariyalur, died due to wall collapse.
Ravichandran, 50 years old, died to hut collapse near Mannargudi.
Heavy rains create havoc in many parts of Tamil Nadu including
Chennai is engulfed with rainwater in many areas. There is water everywhere, and traffic is worst affected. People are suffering due to heavy water on the roads and also due to their damages.
Due to heavy rains in Tirunelveli, many areas are waterlogged, including Samadhanpuram and KTC Nagar. In the Shanthi Nagar area, rainwater, along with wastewater, has entered many houses and affected the people who took to the streets. It was because there was no action by the authorities on their complaint, and even children are worst affected. Tamirabarani river is overflowing with water. All the Kutralam rivers are also running in full capacities. People are barred from taking a bath in Kutralam river. Due to the release of 14 cubic tonnes of water from the Papanasam dam, people have taken shelter in the relief camps. Tirunelveli collector Shilpa Prakash Sathish supervised the arrangements, including 15 relief camps in Tirunelveli.
In Ariyalur, water is flowing over the floor bridge. Traffic is heavily affected, and people have to streets to protest for an over the bridge to be constructed.
In Ramanathapuram, many trees and electric posts have fallen. A house belonging to Muniyammal in Peravur collapsed. There was a full spread power cut in Ariyalur due to the electrical post falling on the roads.
Many places in Sivgangai and Karaikudu are surrounded by stagnant rainwater without let out to drain. Five houses collapsed in Satya Nagar due to the inflow of rainwater.
Residents of Thalambur in Kancheepuram are unable to leave their homes due to the water surrounding them. The 400 families are now stranded with water and have to go around eight km to go to offices. Even after many complaints, people say that further rain will make them only use boats to come out of the home.
Heavy rains lash Toothukudi from 30 November 4 PM continuously. Toothukudi was underwater siege by heavy rains yesterday. Many parts of Toothukudi homes under the corporation are filled with street water. Property damage is heavy, and people are unable to stay in their homes. Water has filled the railway tracks, and trains are delayed to clear water. Passengers are stranded in the Toothukudi railway station. Corporation officials are to bring equipment from Kanyakumari to make the water log in Toothukudi.
Due to heavy rains for the past week in Nagapattinam, the district is filled with water. Flooding of water in Vadagarai village, people have taken shelter in relief camps. Houses in Poompuhar and Kallanai areas are also filled with water.
In Tirupur, many parts, including Avinashi, Palangarai, Kasigoundanputhur, Tekkalur Velayudampalayam, received heavy rains, and roads were filled with water and made people suffer a lot.
In Coimbatore, there were heavy rains yesterday night in many places. A jeep was flooded by water in Somaiyanur, but luckily the driver is safe.
Villupuram, Tiruvallur, and Chengalpattu and many districts received moderate to heavy rains yesterday night.
Next three days, there will be heavy rains say many weather forecasts, including the RMC. The east-facing winds and a low pressure formed in the Bay of Bengal and is moving in the northwest direction confirms RMC. It could bring torrential rains to Kerala also in the next few days. Puviarasan, the director of the regional meteorological department, said that Chennai would get moderate to heavy rains. Also, he noted that winds at the speed of 40 to 50 km/per hour are expected in Chennai. He advised fishers to not venture into the Kanya Kumari and Lakshwadeep seas for the next three days.