Chief Minster Stalin And Governor Ravi In 164th Graduation Ceremony
Thangaraja Palaniappan (Author)
Published Date :

May 16, 2022 17:13 IST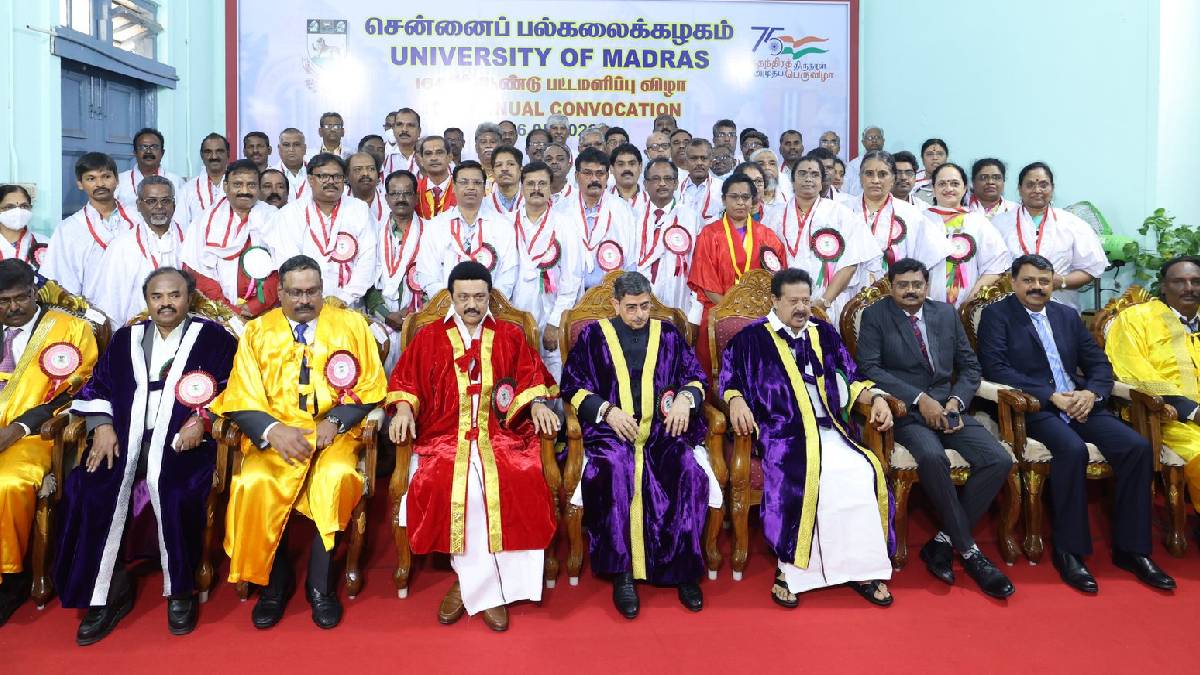 The centenary celebrations of the 164th Graduation Ceremony of the University of Chennai began at 10 am today. The ceremony was presided over by the Vice-Chancellor of the University, Governor RN Ravi. Tamil Nadu Chief Minister M.K Stalin participated and gave a special speech.
The 164th Graduation Ceremony of the University of Chennai is currently underway. In this, the Chief Minister and the Governor appear on the same stage. Chief Minister Stalin welcomed Governor RN Ravi, who was attending the graduation ceremony of the University of Chennai.
Following this, Governor Ravi took Chief Minister Stalin by the hand and bowed. MK Stalin gave a speech saying, "My heartfelt congratulations to Chief Minister Stalin, all the students who spoke at this event.
Your future will be better. This degree is a foundation for the subsequent rise. The first university in Chennai was the University of Chennai. Many pioneers and achievers have studied here."
He continued, "You should read more and more without ending with this degree. It has come up with many programs to make it easier for people like you and the poor to get an education and get a job. The plan is to give women 1000 rupees a month to avoid interruptions. The Government of Tamil Nadu is making every effort to enrich education."
Chief Minister Stalin thanked Governor Ravi for his support of the good efforts of the government. Chief Minister Stalin's speech was so encouraging to the students.
பட்டம் பெறுவதோடு மாணவர்கள் வேலைவாய்ப்புக்குத் தகுதியானோராக - சமூகநீதிப் பார்வை கொண்டவர்களாக விளங்கிடத் திட்டங்கள் செயல்படுத்தப்படுகின்றன!

காமராசரின் ஆட்சி பள்ளிக்கல்வியின் பொற்காலம்;
கலைஞரின் ஆட்சி கல்லூரிக்கல்வியின் பொற்காலம்;
நமது ஆட்சி உயர்கல்வியின் பொற்காலமாகத் திகழும்! pic.twitter.com/Tsve7D5kzz

— M.K.Stalin (@mkstalin) May 16, 2022