CM Stalin: Precautionary Measures To Face The North East Monsoon
Thangaraja Palaniappan (Author)
Published Date :

Sep 26, 2022 16:23 IST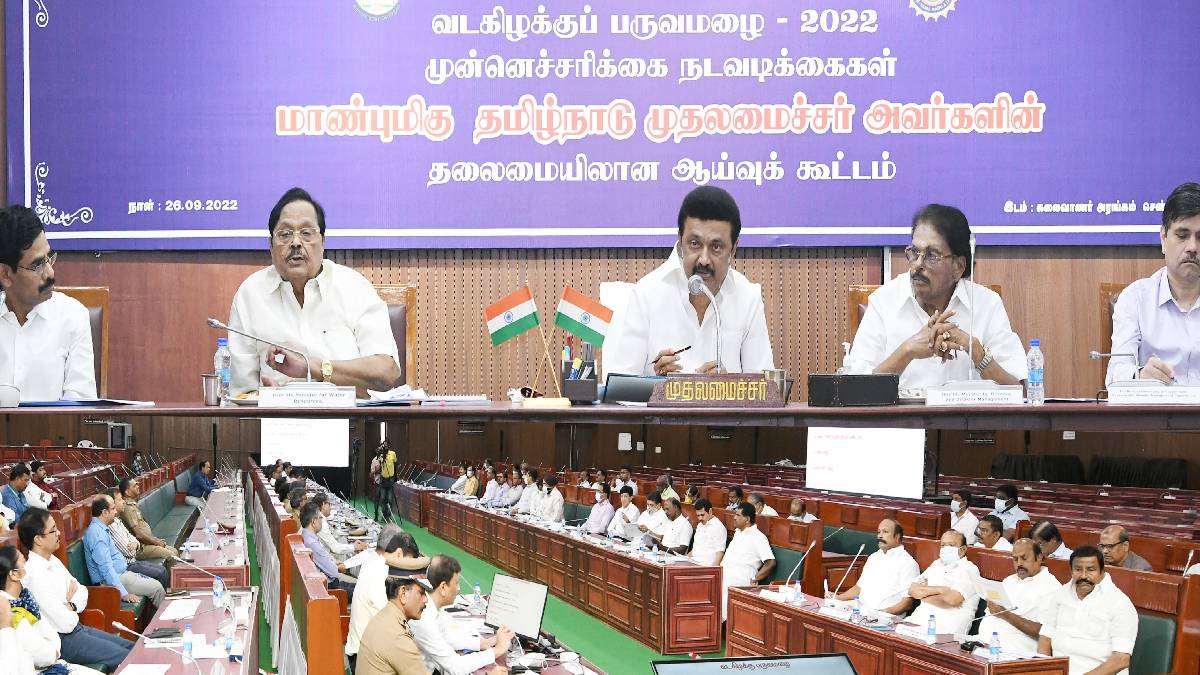 A review meeting was held at Kalaivanar Arena in Chennai under the leadership of Tamil Nadu Chief Minister M.K.Stalin with all departmental officials on Monsoon Precautionary Measures.
Coastal districts, including Chennai, have experienced major floods in the past due to the northeast monsoon. Bad storms have hit as well. Last year too, the people of Chennai city and its suburbs faced severe hardships due to floods due to heavy rains.
This time, the government had advised that the rainwater should be stored without wasting, and the District Collectors should take measures for this.
In this meeting, Chief Minister Stalin, who spoke in this consultation meeting, said, "all the officials have informed about the precautionary and safety measures that various government departments may have taken.
I am satisfied to know that all departments are ready. When we came to power last year, we had a deluge. The floods in and around Chennai were a major challenge for us. We took a decision right then and took action to prevent a similar situation from happening again in Chennai. A committee has been set up to take measures for this, and various measures are being taken according to the suggestions given by the committee.
Not only Chennai but the surrounding districts and the districts in Tamil Nadu, which may be affected by the North-East Monsoon rains, all the measures to be taken have been identified, and the work is being carried out. Surveillance work has been intensified in flood-prone areas.
Also, I know that there is enough water in the lakes like Chembarambakkam and Puzhal, which are the main water sources of Chennai. These lakes should be regularly monitored and properly managed during monsoons. The public should fully cooperate with the measures taken by the government to deal with the monsoon."
சென்னை, கலைவாணர் அரங்கத்தில், வடகிழக்குப் பருவமழையை எதிர்கொள்ள தேவையான முன்னெச்சரிக்கை நடவடிக்கைகள் மேற்கொள்வது குறித்த ஆய்வுக் கூட்டம் மாண்புமிகு முதலமைச்சர் @mkstalin அவர்கள் தலைமையில் நடைபெற்றது. pic.twitter.com/2MC96S9o7V

— CMOTamilNadu (@CMOTamilnadu) September 26, 2022