Coimbatore Car Cylinder Blast: Planned To Attack Railway Station?
Sophia Loren (Author)
Published Date :

Oct 26, 2022 11:05 IST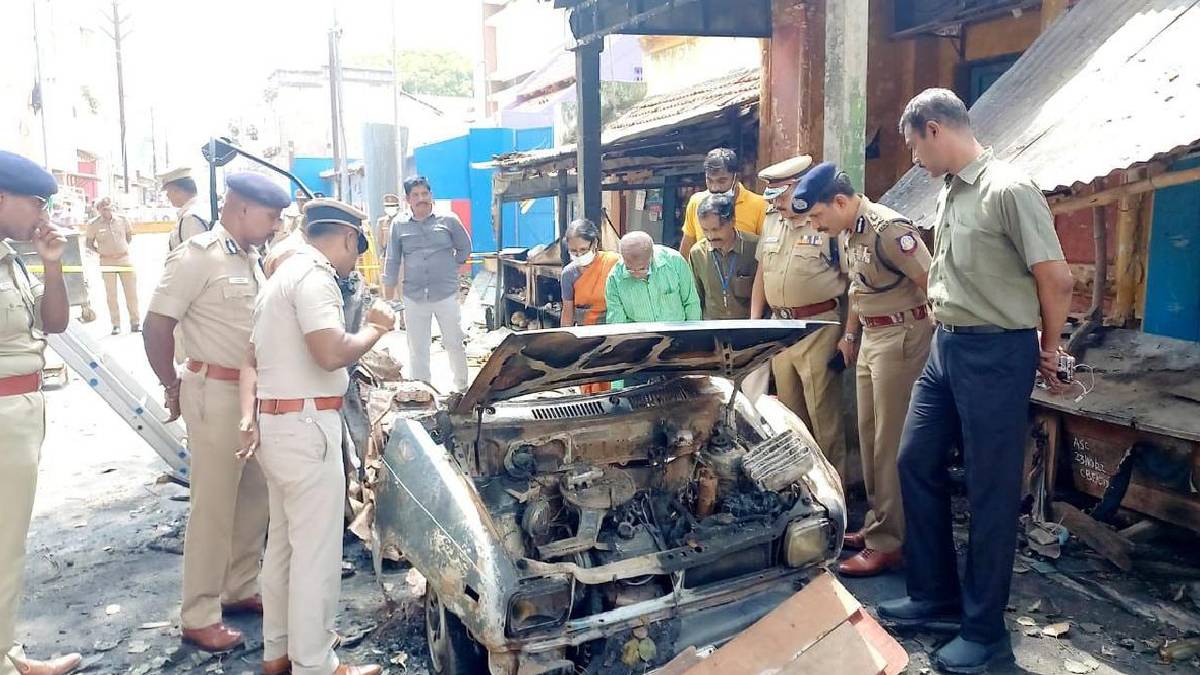 A car exploded in front of Eswaran Temple in Ukkadam, Coimbatore, at around 4 am on October 23. One person in the car was killed. After getting information about this incident immediately, Tamilnadu Police DGP. Sylendra Babu rushed to Coimbatore.
He visited the spot and ordered six special teams to investigate the matter. He camped in Coimbatore for two days and expedited the investigation. And the preliminary investigation by the police revealed that the incident occurred due to the explosion of the cylinder in the car. When the forensic experts examined the site where the engineer's car exploded, they found nails, iron bullets etc.
It was revealed that Jamesha Mubin (29) body, an engineering graduate, was running a shop selling old books. Police seized explosives from his house, including potassium chloride, aluminium nitrate and sulfur. The police then scrutinized the surveillance camera footage near his house. In it, five people, including Jamesha Mubin, came out of the house carrying a white bundle.
Following this, the police launched a quick action to catch Jamesha Mubin's accomplices. 5 people were arrested, Mohammad Talha (25), and Mohammad Azharuddin (23) from Ukkadam, who was in contact with Jamesha Mubin. Later, special police arrested five people, namely Mohammad Riaz (27), Firoz Ismail (27) and Mohammad Nawaz Ismail (26) from the city.
The UBA Act came into force. Meanwhile, Mohammad Talha (25), Mohammad Azharuddin (23), Mohammad Riaz (27), Firoz Ismail (27), and Mohammad Nawaz Ismail (26) have been arrested were arrested under the Unlawful Activities Prevention Act (UPA). Later, the five arrested persons were produced in court. Later, the police took them to Coimbatore Central Jail.
Police officials today discussed handing over the car blast investigation to the National Investigation Agency (NIA). The investigation has revealed that they were planning to attack the Coimbatore Railway Station, Coimbatore Collector's Office, Municipal Police Commissioner's Office and the Race Course area.