Coimbatorian Get No Religion, No Caste Certificate To His Daughter
Thangaraja Palaniappan (Author)
Published Date :

May 31, 2022 12:30 IST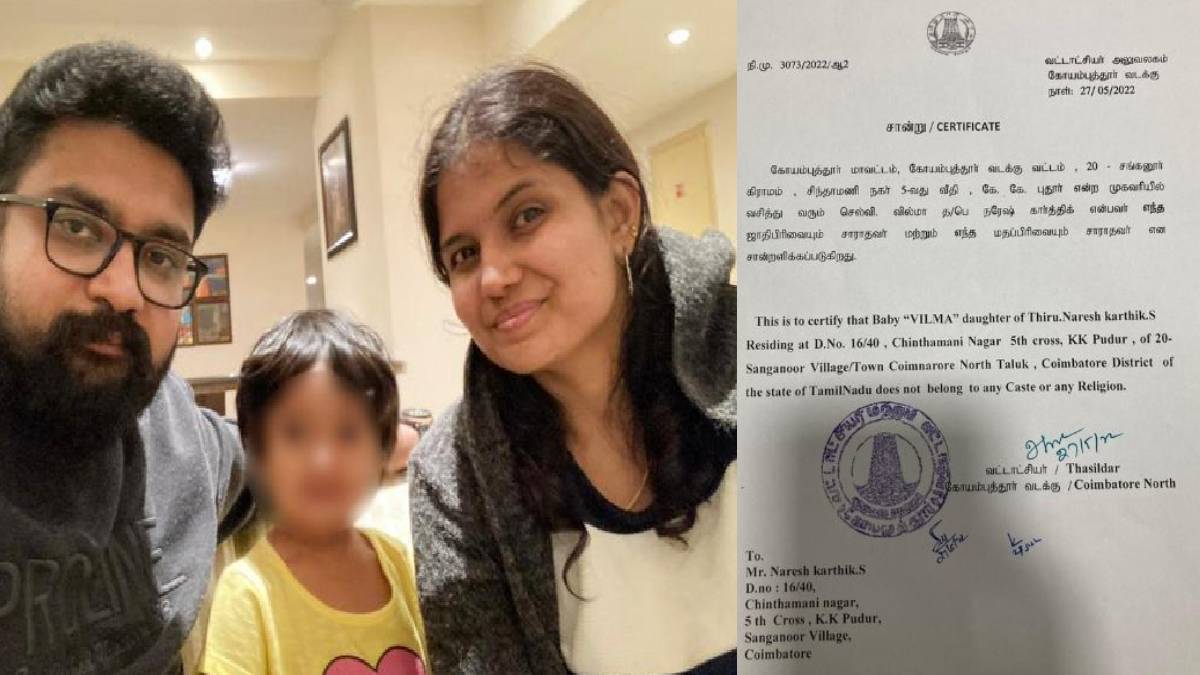 Naresh Karthik from Coimbatore has received a certificate from the Revenue Department stating that his three-and-a-half-year-old daughter is of no caste or religion. Caste certification is considered mandatory for enrolling children in school for scholarships, employment and old-age allowances.
Due to this, they get a caste certificate before enrolling their children in school. It is issued based on the father-mother way caste certificate. The caste certificate issued by the Revenue Department of the Government of Tamil Nadu will state the details, including the person's caste and religion. It is noteworthy that children can be enrolled in school with this.
In this situation, a businessman Naresh Karthik and his wife Gayatri from Coimbatore has obtained a certificate from the Revenue Department that his three-and-a-half-year-old daughter Vilma is a non-believer of any caste or religion. This incident has received national attention.
Naresh Karthik, who runs a design firm in Coimbatore, approached several schools for their daughter to get admitted to Kindergarten. He was shocked that the application was put on hold as he left it blank without filling that part.
He then applied to the Coimbatore North Tahsildar's office for a certificate stating that his daughter was not of any caste or religion.
Consequently, his child Vimla has been certified as belonging to no caste or religion. Speaking on occasion, Naresh Karthik said, "The Government of Tamil Nadu had issued a directive in 1973 that caste and religion should not be mentioned in the application for admission of students to schools. However, caste certificates are required in schools for various reasons, including scholarships.
Only when caste and religion disappear will the inequality among the people be eliminated. With that in mind, I have obtained a certificate of caste and secularism for my daughter at the Coimbatore North Tahsildar office.
This is the first time in the Coimbatore district that such a certificate has been issued. MBC, BC, OC, SC, and ST categories are mentioned when applying for the job. In which N.C. The so-called No Cost Non-Caste category should be included. Only then will it be easier for non-caste and non-religious people to apply."