Community Valaikappu support and new city buses by Minister Velumani in Coimbatore
Vijayan Sankar (Author)
Published Date :

Sep 29, 2019 18:23 IST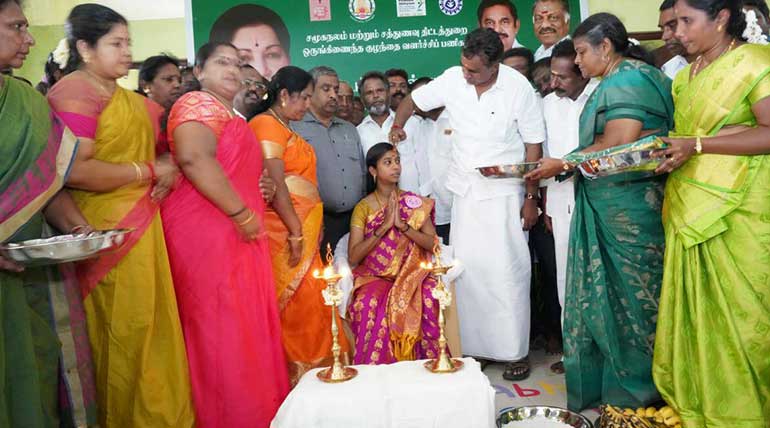 Municipal Minister SP Velumani continues his welfare activities in Coimbatore district: Municipal minister SP Velumani continues his welfare activities not only in his constituency Thondamuthur but also in various parts of Coimbatore.
Today he flagged of many city buses in Thondamuthur and Ukkadam in Coimbatore. Along with chief minister Edapadi Palanisamy, S P Velumani is working hard for the welfare of Tamil Nadu people.
S P Velumani today took part in many functions: Minister S P Velumani today was busy participating in many community Valaikappu functions across Coimbatore. Thondamuthur, Kuniyamuthur, and Selvapuram are the areas the said Society Valaikappu functions held for pregnant women with community support.
Being the MLA of Thondamuthur constituency for the second time now, SP Velumani help these women to have these sacred and happy functions before delivery of their children. This kind of helping women by Minister Velumani is in the continuance of former chief minister late Jayalalitha's concern and care for women.
New city buses for Coimbatore flagged off by Minister Velumani today: In Ukkadam and Thondamuthur, Minister Velumani flagged off many buses for plying across Coimbatore. It will help people more during the rush hour to go to their workplaces quickly and easily. Also, with the free passes, the students can reach their schools in Coimbatore fast. S P Velumani continues his well-doing in all ways possible for the Coimbatore people.
S P Velumani - Minister and AIADMK face in Coimbatore: Having won in Perur assembly seat in 2006, now SP Velumani is a third time MLA continuously. Late chief minister Jayalalitha noticing the capabilities of him gave the minister of municipal administration post in 2016. He continues in the said minister post under the current chief minister Edappadi Palaniswami also.
Velumani is also the famous AIADMK face in Coimbatore. He is easily accessible to people to tell their grievances and get them solved them fast. Also being the Coimbatore rural district secretary, SP Velumani is approachable for AIADMK cadres anytime to develop the party in Coimbatore.
We wish Minister S P Velumani for continuing his welfare activities not only in and around Coimbatore district but also for the whole of Tamil Nadu.