Congress Leader Rahul Gandhi Releases CM Stalin's Ungalil Oruvan Book
Thangaraja Palaniappan (Author)
Published Date :

Mar 01, 2022 11:16 IST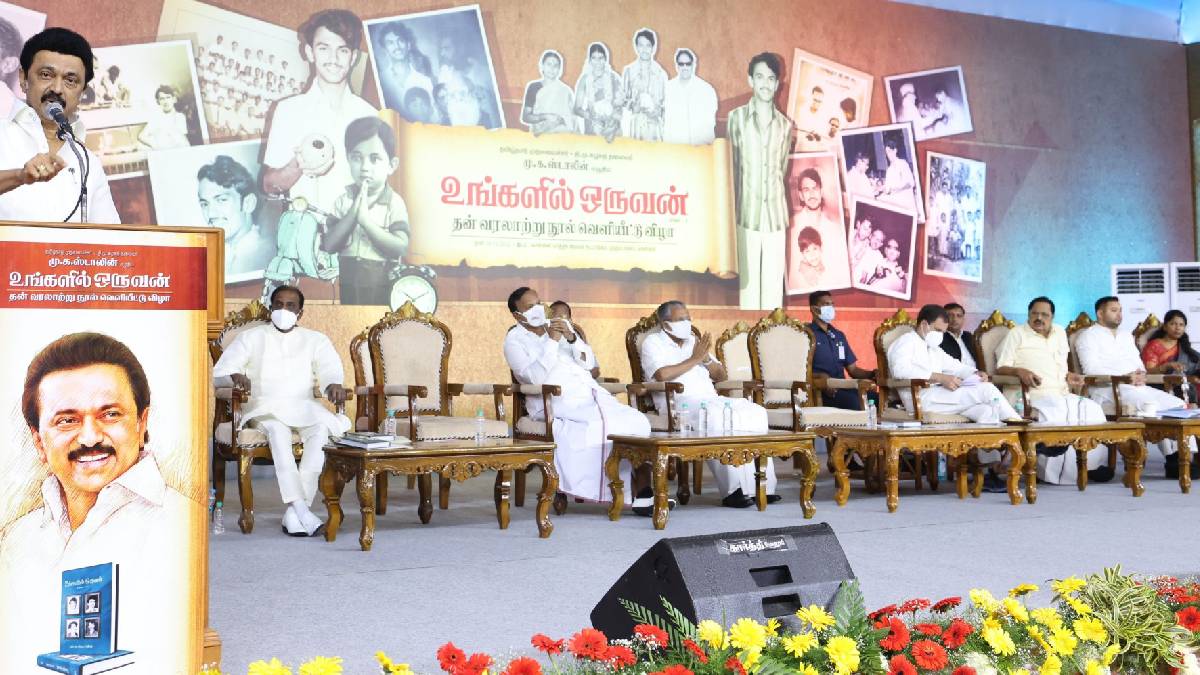 The launch of the first part of his historical novel 'Ungalil Oruvan' written by Chief Minister Stalin took place at the Chennai Trade Center yesterday. Former Congress leader Rahul Gandhi has been released the book. Minister Durai Murugan received the first copy. The speech given by Rahul Gandhi is high on talks among the party members.
The function was attended by senior Congress leader Rahul Gandhi, Kerala Chief Minister Pinarayi Vijayan, Bihar Opposition Leader Tejaswi Yadav and former Kashmir Chief Minister Omar Abdullah.
In the event, Rahul Gandhi said, "I recently learned that what I had said in Parliament was greatly appreciated by Tamil Nadu. When I came out of Parliament, a journalist asked, 'Why did you mention Tamil Nadu so many times?' He asked. Immediately without knowing me, I said, 'I am Tamil'.
Then when I got in the car, I wondered why I said that. I was not born in Tamil Nadu; I don't speak Tamil, But my blood is mixed in your soil. Losing my father was the most tragic experience. The Prime Minister is trying to impose some other ideologies in Tamil Nadu. The people of Tamil Nadu are constantly talking about the 'NEET Exam'; They say they are affected by GST.
The Prime Minister does not know the history of Tamil Nadu. For 3000 years, no one has imposed anything on the people of Tamil Nadu; Unable to impose. I have experience with the people of Tamil Nadu. You can get anything from them if you talk to them lovingly.
This is the first time since independence that the rights of the state have been taken away; The rights of the people have been taken away. The people of Jammu and Kashmir are in a position where they cannot rule themselves.
Tamil Chief Minister Stalin started his speech, "It is comforting to think back to the paths that traversed past memories. Speaking of that period, everyone's face will blossom. In the past, there was a pleasure, and there was a burden. In the past, there was sweetness; there was bitterness. The combination of the two is everyone's life. Whatever the case, the path traversed cannot be forgotten.
When I started the Gopalapuram Youth DMK, I did not even think that one day I would become the leader of the DMK. I never thought at that time that I would one day sit in the Chief Minister's chair. But I determined my goal very precisely. The Dravidian policy is my life. I shaped myself in my childhood that our daily work is to benefit Tamil Nadu.
Stalin stressed that the Constitution of India should be amended to give more power to the states. All parties must have a voice in this. He said: I will be one of you in any responsibility. I will act as one among you for the rest of my life. "
முத்தமிழறிஞர் கலைஞரின் மகனாகப் பிறந்த நாள் முதல், திராவிட முன்னேற்றக் கழகமே என் உயிர்மூச்செனச் செயல்பட்டு வருகிறேன்.

13 வயதில் கழகக் கொடி பிடித்தது முதல் இன்றுவரையில் என்னை முழுவதுமாக மக்கள் பணியில் ஈடுபடுத்திக் கொண்டிருக்கிறேன். (1/3) pic.twitter.com/DQJMHlgTmd

— M.K.Stalin (@mkstalin) February 28, 2022