Continuous Rain At Chennai Has Caused Floods In Many Areas
Vignesh Subbaian (Author)
Published Date :

Nov 08, 2021 15:39 IST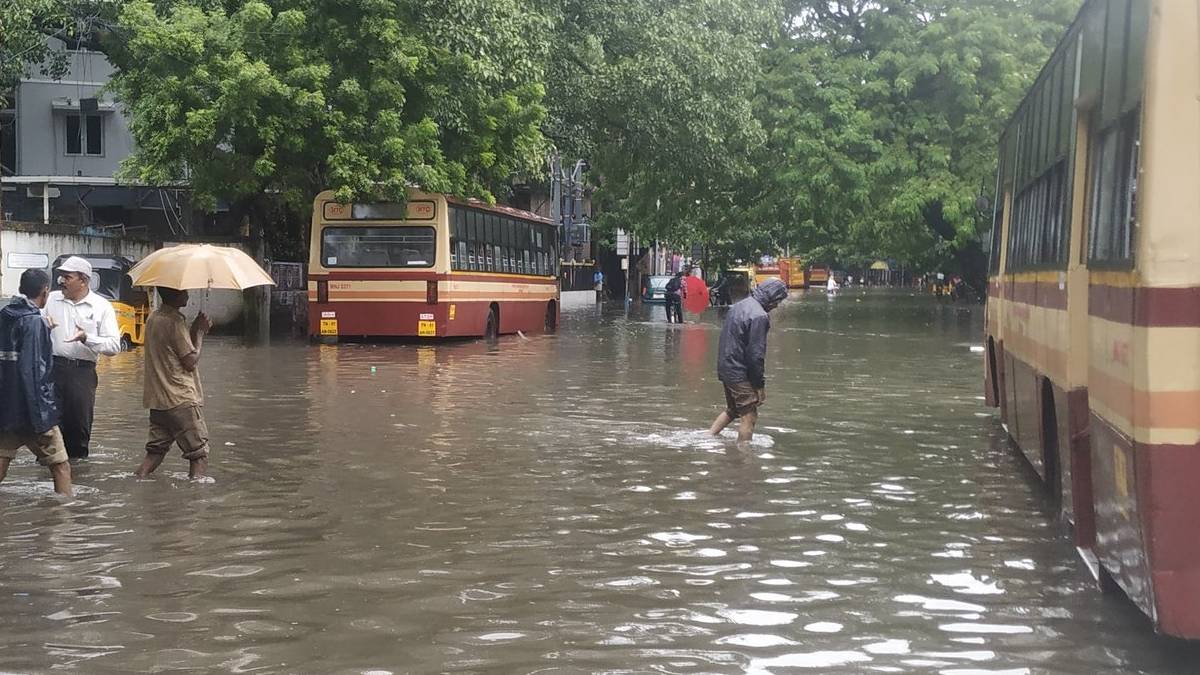 A low-pressure area is likely to form over the next 24 hours in the south-eastern Bay of Bengal. Working people are requested to do work from home as possible. Schools and colleges have announced holidays.
The depression in the Bay of Bengal will intensify and approach Tamil Nadu on November 11. The coastal districts of northern Tamil Nadu and the coastal areas of southern Andhra Pradesh are likely to receive heavy rainfall. Heavy rain is likely in Tamil Nadu for the next five days due to the low-pressure area.
The schools and colleges have announced two days of holidays to the students. The water level is increasing due to heavy floods. The photos of Chennai is going viral with hashtags #chennaifloods, #ChennaiRains2021. The condition of Chennai is becoming serious due to continuous rain.
Chengalpattu, Villupuram and Cuddalore districts will receive heavy rainfall, the Met Office said. An orange alert has been issued in 14 districts, including Cuddalore, Villupuram, Chennai, Kanchipuram, Chengalpattu, Tiruvallur, Vellore, Ranipet, Tirupattur, Nagapattinam, Mayiladuthurai, Kallakurichi, Tiruvannamalai and Salem districts of Tamil Nadu.
Chief Minister Stalin has requested the public not to return to Chennai now. It is because the people in Chennai are already suffering from no food and accommodation. The water level has almost touched the average human knee level. The rainwater entered the houses in a few localities, and the household things were floating.
Continuous rain was reported yesterday night, and the car and bike were sunk in rainwater. The photos of vehicles floating and sunk are going viral on social media. Prime Minister Modi has enquired about the rain condition of Tamil Nadu to Cheif Minister MK Stalin.
The Met department has cautioned the public not to go out of the house as there will be heavy rain in the next 48 hours. The rescue works are happening at a rapid speed considering the 2015 flood, which made the situation go worse.
இராயபுரம், துறைமுகம், பெரம்பூர், ஆர்.கே.நகர் உள்ளிட்ட பகுதிகளில் இன்று மழை வெள்ள ஆய்வுப்பணிகளைத் தொடர்ந்தேன்; நிவாரண உதவிகளை வழங்கினேன்.

அரசுத்துறைகள் மிகுந்த கவனத்துடன் இருக்கின்றன. மக்களின் இயல்பு வாழ்க்கை பாதிப்படையாமல் இருக்கும்படி நடவடிக்கைகள் மேற்கொள்ளப்பட்டுள்ளன. pic.twitter.com/0lZ5JbMk37

— M.K.Stalin (@mkstalin) November 8, 2021