ads
Continuous rainfall in Chennai and other districts; Tamil Nadu welcomes Northeast monsoon, finally.
Sivaranjani Soundararaj (Author)
Published Date :

Oct 17, 2019 16:14 IST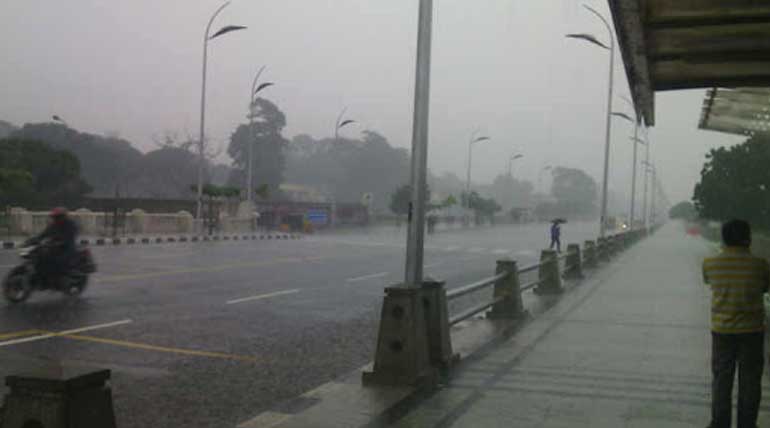 Chennai: Tamilnadu says goodbye to dry and drought from now on. Chennai being an extremely tropical city for the past few months just invited the northeast monsoon to bring chillness.
The weather forecaster Balakrishnan has predicted the commencement of Northeast monsoon in Chennai and other parts of Tamilnadu. As per the weather forecast department, the monsoon season begins all over South Indian states of Karnataka, Andhra Pradesh, Kerala from Thursday.
The regional weather office also assured moderate or heavy rainfall for the next couple of days, mainly due to the atmospheric cyclone formation over the shores of the southwestern oceans of Tamilnadu.
Monsoon has just visited Chennai last night with a moderate shower in localities of Marina, Besant Nagar, Velachery, Elumbur, Saidapet, Meenambakkam.
Chennai always faces the water scarcity even during the monsoons that always comes with a flood. However, the city has not yet reached that point this year; hope this monsoon will bring happiness everywhere instead of an overflow.
Starting with the moderate rainfall marking above 11cm in parts of Chennai will hopefully refill the aquifers of Chennai in the next few days. The Regional metrological office in Chennai forecasts also warned that the upcoming rainy days may seize the regular life of people.
Apart from Chennai's, other parts of Tamilnadu are also enjoying a light shower with a breeze, and it will be the same for the next couple of days, said the meteorological department.
Bodi, Rasingapuram, Thevaram regions of the Theni district will exhibit light rain with thunderstorms. Nagapattinam district started with light rain and showered heavy last night.
The neighborhood localities of Nagapattinam like Seerkazhi, Poombukaar, Kollidam regions had drizzle with medium rain. In Kadambur, a hill region in the Erode district, along with Sathyamangalam, has also enjoyed heavy rain.
Tamilnadu regional metrological officer Balakrishnan has predicted continuous rain and showers in Eleven districts of Tamilnadu, such as Kanyakumari, Tirunelveli, Thoothukudi, Ramanathapuram, Nagapattinam, Thiruvarur, Cuddalore, Thanjavur, Thiruvallur for next two days.
Out of these, one or two regions can expect flood with heavy rains, says weather forecast department in Tamilnadu.
Continuous rainfall in Chennai and other districts; Tamil Nadu welcomes Northeast monsoon, finally.