COVID 19 cases continue to rise in Tamil Nadu with 4,985 cases today
Vignesh Subbaian (Author)
Published Date :

Jul 20, 2020 22:14 IST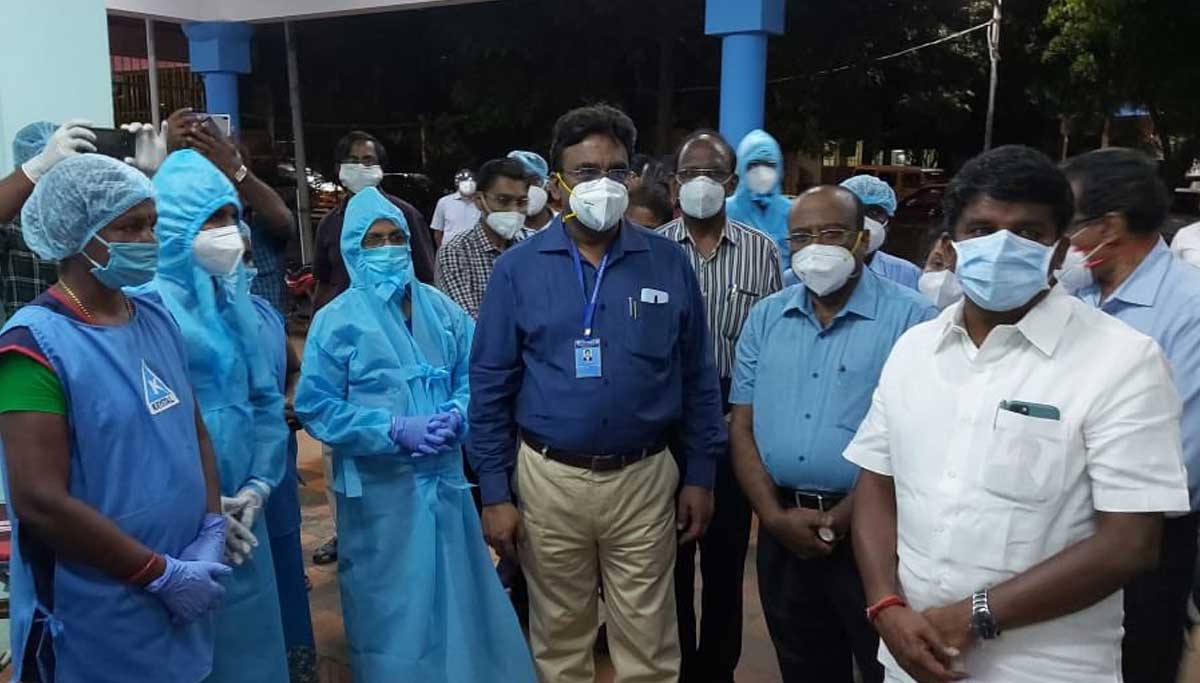 COVID 19 cases continue to rise in Tamil Nadu with 4,985 cases today: Coronavirus infection cases have crossed the 1,75,000 mark in Tamil Nadu with today's tally of 4,985 cases. The death toll though high at 70 is slightly lowered than the past two days. With Chennai accounting only for 1,298 cases, the other districts contribute to the significant share of infections, which is an alarming situation now. But the only silver lining for the world is Oxford University's vaccine AZD 1222, showing promising results as published in the Lancet Medical Journal today, July 20.
COVID 19 in Tamil Nadu: There is no letdown in the coronavirus's rise in Tamil Nadu with again the highest infections of 4,985 cases to take the total tally to 1,75,678. If the same range continues for another five days, by July 25, Tamil Nadu will cross the 2 lakh infections. The expected rise in the Chennai cases after 15 days of removing the intense lockdown did not happen today. There were only 1298 cases today in Chennai, leaving the remaining 3,687 cases to the other districts.
COVID 19 in the districts: Of the 3,687 new cases in the districts, the most affected today include
Chengalpattu - 384, Coimbatore - 139, Kancheepuram - 329, Madurai - 106, Tenkasi - 103, Theni - 107, Tiruvallur - 454, Tiruvannamalai - 151, Toothukudi - 200, Vellore - 114 and Virudunagar - 169.
While Madurai seems to have a reprieve with only 106 cases, Coimbatore is worrying with 139 cases. The neighboring state Kerala has an increase in the number of cases, and it is a concern for the authorities in Coimbatore to take care of the situation. The other districts also show a considerable increase in the number of infection cases.
Will Oxford's AZD 1222 save the people from COVID 19? Though Russia and China have announced the success of COVID 19 vaccines, there was not much enthusiasm among the world people. There are more than 150 such attempts worldwide to find the COVID 19 vaccine. But today the results of the Oxford University's COVID 19 vaccine AZD 1222 published its findings in the Lancet Medical Journal is promising.
The published study showed fantastic results of no side effects and ample antibody production and T-cell immune responses. The British government has spent an enormous amount than any other country, as said by the British health secretary Matt Hancock to develop the vaccine.
Along with AstraZeneca, Oxford University tested the vaccine on 1,077 volunteers, and all have shown excellent results. The British government has also ordered the manufacturing of 10 crores of AZD 1222 vaccines to be available to the people by next month.