Kolam Protest Against CAA: DMK Chief Stalin Thanked the CM For Starting it
Vignesh Subbaian (Author)
Published Date :

Dec 30, 2019 20:02 IST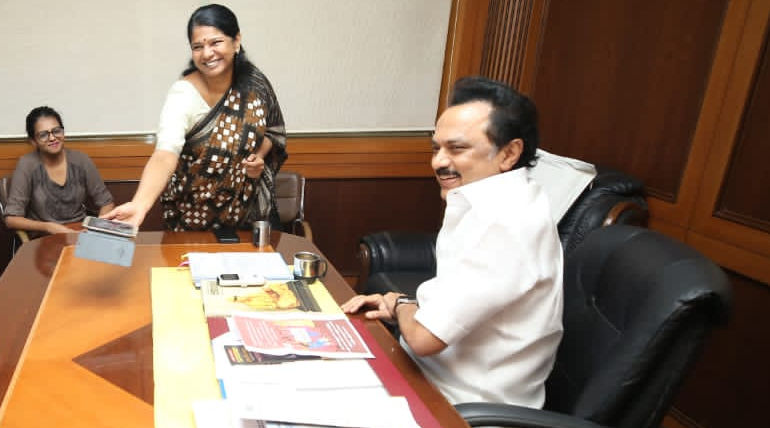 Stalin thanks CM for the whole Tamil Nadu to draw kolams against CAA and NCR: Stalin criticized AIADMK as bonded slaves of the central government to not let the central government hurt even in kolams. The women who were detained by the Shastri Nagar police in Chennai for drawing kolam in Besant Nagar met him today, December 30. Stalin thanked the CM Palaniswami as the whole of Tamil Nadu is drawing kolams against CAA and NRC.
CAA and NRC protests continue for the third week now in many parts of India. More than twenty-three people died due to violence during the protests. In BJP ruled UP and Karnataka nearly 20 died during the protests. The central government is not willing to roll back the CAA but conducting support protests for it across India and even in America.
In last week's cabinet meeting, Rs. 3500 crores were allotted for the NPR or National Population Register. It is to collect details from the public about their residential status. Many people think it is only the first step to NCR. Already NCR is implemented in Assam, and nearly 19 lakh people are identified as illegal immigrants. As per the words of many BJP ministers in and outside parliament, NCR is the next after CAA and NPR.
In this scenario, five women in Besant Nagar, Chennai, took a novel way to protest against the CAA and NCR. On Sunday, December 7 AM, they drew kolam in Besant Nagar with the writing of NO to CAA and NO to NCR. For this heinous crime, they were immediately bundled up in a police van and taken to the Sasthri Nagar police station and kept in a community hall nearby. Three people who came and questioned what is happening were also detained along with them. Though all eight were released at 10 AM, three cases under IPC are booked against them.
These five women met Stalin today in Arivalayam. Stalin has assured them of all help. He took to his Twitter handle to criticize the AIADMK government and, in particular, CM Edappadi Palaniswami. Stalin thanked him for trying to remove one kolam, which made the whole of Tamil Nadu to draw kolams against CAA and NCR.
மாவுக்கோலத்தால் கூட மத்திய அரசு காயம்படக் கூடாது எனக் காக்கும் கொத்தடிமை அதிமுக அரசால் வழக்குப் பதிவு செய்யப்பட்ட இளைய சமுதாயத்தினர் என்னை சந்தித்தனர்.

ஒரு கோலத்தை அழிக்க இந்த அலங்கோல ஆட்சி முயன்றது. இதோ தமிழ்நாடே போர்க்கோலம் வரைகிறது!

எடப்பாடி அரசுக்கு நன்றி! #DMKkolamProtest pic.twitter.com/qEx1Zx1Qvm

— M.K.Stalin (@mkstalin) December 30, 2019