Election 2021: DMK Winning Candidates List With The Number Of Votes
Thangaraja Palaniappan (Author)
Published Date :

May 03, 2021 16:49 IST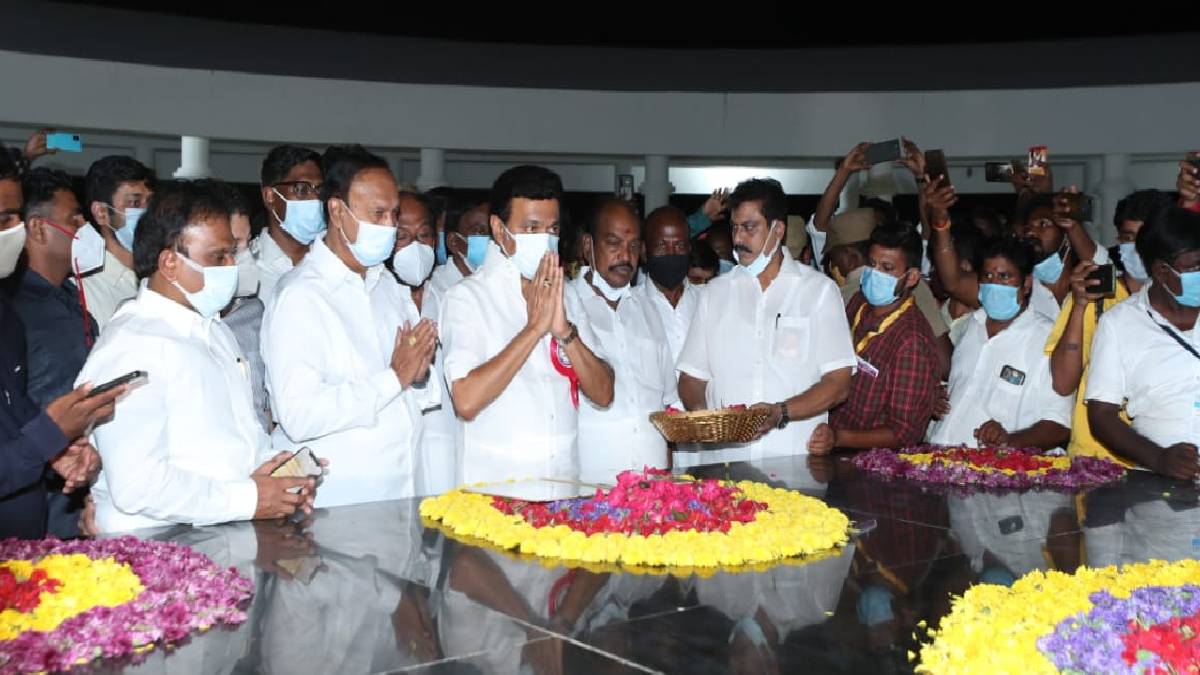 Tamil Nadu Assembly Election 2021 was a turnover for the state as the D.M.K. party thrones the state after ten years. The State has made a change for the ruling, and the people have voted with a wide range of expectations. DMK-led alliance has won 124, whereas ADMK has won 59.
M. K. Stalin has taken over the throne for the next ten years with a maximum number of votes with the huge difference from the opposition party. M. K. Stalin, for the first time, taking the prestigious position in Tamil Nadu. Overall D.M.K. Party has won 133 constituencies across Tamil Nadu.
Here is the list of D.M.K. winners and their constituencies with the number of votes.
T.M.Anbarasan won in Alandur constituency by 116785 votes
Siva.V.Meyyanathan won in Alangudi constituency by 87935 votes
Joseph Samuel won in Ambattur constituency by 114554 votes
Vilwanathan. A.C. won in Ambur constituency by 90476 votes
A.P.Nandakumar won in Aanaikattu constituency by 95159 votes
A.Maharajan won in Andipatti constituency by 93541 votes
M.K. Mohan won in Anna Nagar constituency by 80054 votes
Venkatachalam. A.G. won in Anthiyur constituency by 79096 votes
S.S.Anbalagan won in Arani constituency by 99833 votes
Elango. R won in Aravakurichi constituency by 93369 votes
J.L.Eswarappan won in Arcot constituency by 103885 votes
Chinnappa K won in Ariyalur constituency by 103975 votes
K.K.S.S.R.Ramachandran won in Aruppukkottai constituency by 91040 votes
Periyasamy I won in Athoor constituency by 165809 votes
Nasar S M won in Avadi constituency by 150287 votes
Mathiazhagan D won in Bargur constituency by 97256 votes
Varalakshmi. M won in Chengalpattu constituency by 130573 votes
Giri. M.P. won in Chengam constituency by 108081 votes
Udhayanidhu Stalin won in Chepauk Thiruvellikeni constituency by 93285
Jothi. O won in Cheyyar constituency by 102460 votes
Ramachandran, K. won in Coonoor constituency by 61820 votes
G.Iyappan won in Cuddalore constituency by 84563 votes
N.Ramakrishnan won in Cumbum constituency by 104800 votes
Kayalvizhi N won in Dharapuram constituency by 89986 votes
Subramani.P won in Dharmapuri constituency by 78770 votes
Ebenezer J.J won in Dr. Radhakrishnan Nagar constituency by 95763 votes
I.Paranthamen won in Egmore constituency by 68832 votes
Muthusamy S won in Erode West constituency by 100757 votes
Masthan Ks won in Gingee constituency by 109625 votes
Amulu. V won in Gudiyattam constituency by 100412 votes
Govindarajan T. J won in Gummidipoondi constituency by 126452 votes
Sekarbabu P.K won in Harbour constituency by 59317 votes
Prakash Y won in Hosur constituency by 118231 votes
Kannan Ka So Ka won in Jeyamkondam constituency by 99529 votes
Devaraji.K won in Jolarpet constituency by 89490 votes
Saravanan.P.S.T won in Kalasapakkam constituency by 94134 votes
C.V.M.P. Ezhailzrasan won in Kancheepuram constituency by 102712 votes
Saminathan. M.P won in Kangayam constituency by 94197 votes
Senthil Balaji V won in Karur constituency by 101757 votes
Duraimurugan won in Katpadi constituency by 85140 votes
M.K. Stalin won in Kolathur constituency by 105522 votes
Sivagama Sundari.K won in Krishnarayapiram constituency by 96540 votes
R.Manickam won in Kulithali constituency by 100829 votes
Anbalagan G won in Kumbakonam constituency by 96057 votes
Sivasankar S.S won in Kunnam constituency by 103922 votes
M.R.K.Panneerselvam won in Kurunjipadi constituency by 101456 votes
A.Soundarapandian won in Lalgudi constituency by 84914 votes
Sudharsanam.S won in Mandavram constituency by 151485 votes
Palanivel Thiaga Rajan won in Madurai Central constituency by 73205 votes
Moorthy P won in Madurai East constituency by 122729 votes
Thalapathi G won in Madurai North constituency by 73010 votes
Boominathan. M won in Madurai South constituency by 62812 votes
Ganapathy. K won in Maduravoyal constituency by 121298 votes
S. Kathiravan won in Manachanallur constituency by 116334 votes
Tamilarasi A. won in Manamadurai constituency by 89364 votes
Abdul Samad P won in Manapparai constituency by 98077 votes
Rajaa T R B won in Mannargudi constituency by 87172 votes
Shanmugasundramt R won in Mettupalayam constituency by 102775 votes
R.S.Rajakannappan Mwon in udhukulathur constituency by 101901 votes
N. Thiyagarajan won in Musiri constituency by 90624 votes
Velu.Dha won in Mylapore constituency by 68392 votes
Ramalingam P won in Namakkal constituency by 106494 votes
Saba.Rajendran won in Neyveli constituency by 751770 votes
Sakkarapani R won in Oddanchantram constituency by 9109970 votes
Shunmugaih C won in Ottapidaram constituency by 73110 votes
Mano Thangaraj, T. won in Padmanabhapuram constituency by 87744 votes
Senthil Kumar I.P won in Palani constituency by 108566 votes
Abdul Wahab. M won in Palayamkottai constituency by 89117 votes
Karunanithi won in Pallavaram constituency by 126427 votes
Prabhaharan M won in Perambalur constituency by 122090 votes
Dr.Jawahirullah, M.H. won in Papanasam constituency by 86567 votes
Murugesan. S won in Paramakudi constituency by 84864 votes
Annadurai K won in Pattukottai constituency by 79065 votes
Inbasekaran P.N.P won in Pennagaram constituency by 84937 votes
Shekar R.D. won in Perambur constituency by 105267 votes
Ashokkumar N won in Peravurani constituency by 89130 votes
K.S.Saravanakumar won in Periyakulam constituency by 92251 votes
Nivedha M. Murugan won in Poompuhar constituency by 96102 votes
Krishnaswamy A won in Poonamalle constituency by 149578 votes
V . Muthuraja won in Pudukottai constituency by 85802 votes
M.Appavu won in Radhapuram constituency by 82331 votes
Thangapandian S won in Rajapalayam constituency by 74158 votes
Katharbatcha won in Muthuramalingam Ramanthapuram constituency by 111082 votes
R.Gandhi won in Ranipet constituency by 103291 votes
Mathivendhan M won in Rasipuram constituency by 90727 votes
Karthikeyan K won in Rishivandiyam constituency by 113912 votes
Murthy.R.Idream won in Royapuram constituency by 64424 votes
Subramanian. Ma won in Saidapet constituency by 79971 votes
R. Rajendran won in Salem North constituency by 93432 votes
Udhayasuriyan T won in Sankarapuram constituency by 121186 votes
Raghuraman, A.R.R won in Sattur constituency by 74174 votes
Ponnusamy K won in Sethamangalam constituency by 90681 votes
Venkatesan A won in Solavandhan constituency by 84240 votes
S.Aravindramesh won in Shozinganallur constituency by 171558 votes
Panneerselvam won in Sirkazhi constituency by 94057 votes
Palaniyandi.M won in Srirangam constituency by 113904 votes
Raja.S.R won in Tambaram constituency by 116840 votes
Sivakumar.P won in Thiru-Vi-Ka-Nagar constituency by 81727 votes
S.Regupathy won in Thirummayam constituency by 71349 votes
Durai.Chandrasekaran won in Thiruvaiyaru constituency by 103210 votes
Raajendran, V.G. won in Thiruvallur constituency by 107709 votes
Kalaivanan Poondi K. won in Thiruvarur constituency by 108906 votes
Anbil Mahesh Poyyamozhi won in Thiruverumbur constituency by 105424 votes
Chezhiaan, Govi. won in Thiruvidaimarudur constituency by 95763 votes
K.P.Shankar won in Thiruvottiyur constituency by 88185 votes
Karunanithi J won in Thiyagrayanagar constituency by 56035 votes
P.Geetha Jeevan won in Thoothukudi constituency by 92314 votes
Ezhilan N won in Thousand Lights constituency by 71867 votes
S.Stalinkumar won in Thuraiyur constituency by 87786 votes
Anitha R. Radhakrishnan won in Tiruchendur constituency by 88274 votes
Eswaran E R won in Thiruchengode constituency by 81688 votes
Inigo Irudayaraj,S. won in Thiruchirapalli East constituency by 94302 votes
Nehru, K.N. won in Thiruchirapallu West constituency by 118133 votes
Thangam Thenarasu won in Tiruchuli constituency by 102225 votes
K.Ponmudy won in Thirukoyillur constituency by 110980 votes
A. Nallathambi won in Tirupattur constituency by 96522 votes
Kr.Periyakaruppan won in Tiruppatur constituency by 103682 votes
Selvaraj. K. won in Tiruppur South constituency by 75535 votes
S.Chandran won in Tiruttani constituency by 120314 votes
E V Velu won in Thiruvannamalai constituency by 137876 votes
Ganesan, C.V. won in Thittakudi constituency by 83726 votes
Manikannan A J won in Ullundurpaeetai constituency by 115451 votes
Sundar K won in Uthiramerrur constituency by 93427 votes
Ambethkumar S won in Vandavasi constituency by 102064 votes
Sadhan Thirumalaikumar, won in Doctor.T Vasudevanallur constituency by 68730 votes
Gandhirajan S won in Vedasandur constituency by 106481 votes
Karthikeyan. P won in Vellore constituency by 84299 votes
Pugazhenthi N won in Vikravandi constituency by 93730 votes
Markandayan V won in Vilathikulam constituency by 90348 votes
A . Vetriazhagan won in Villivakam constituency by 76127 votes
Lakshmanan R won in Villupuram constituency by 102271 votes
Seenivasan A.R.R. won in Viruthnagr constituency by 73297 votes
Amv.Prabhakara Raja won in Virugampakkam constituency by 74351 votes