Every Municipality Must Achieve The Development Says CM Stalin
Thangaraja Palaniappan (Author)
Published Date :

Apr 19, 2022 10:51 IST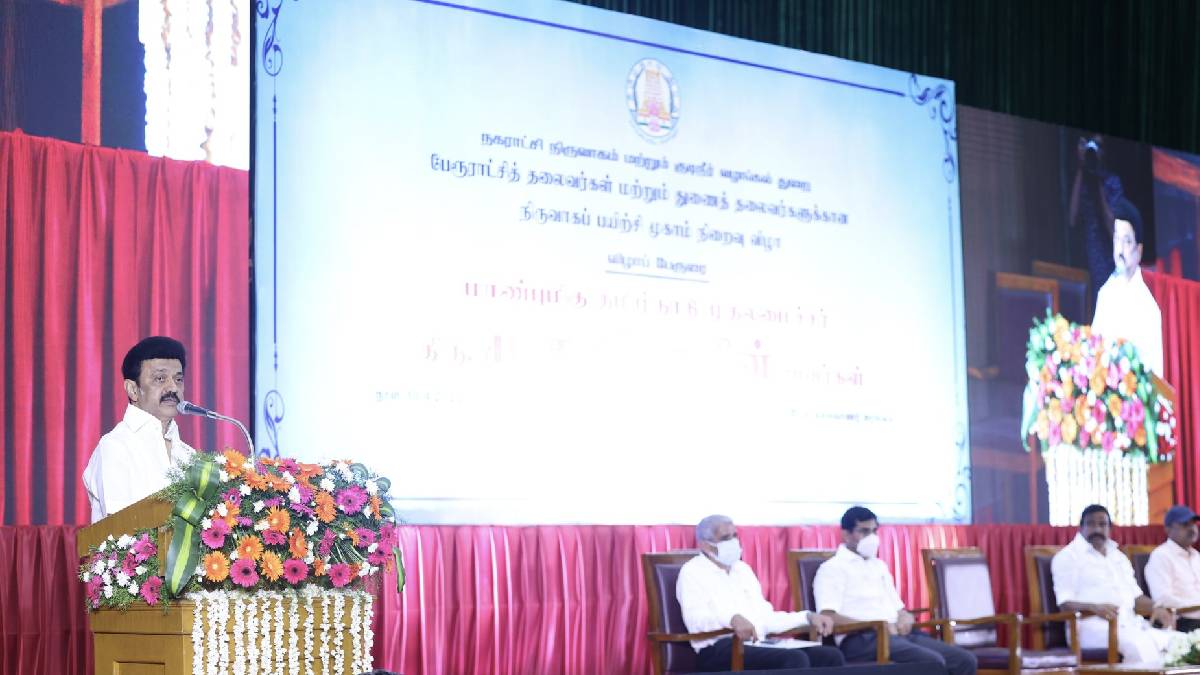 Tamil Nadu Chief Minister MK Stalin said that every municipality should achieve the development of the Dravidian model. Speaking at the closing ceremony of the Management Training for Mayors and Vice-Presidents, Chief Minister MK Stalin said: "Women are more responsible now. We expect consistent, cohesive, efficient performance from you.
That's why this training camp. The future of local government is in your hands. The training was organized by the Minister of Municipal Administration, KN Nehru. His political entry is somehow coming in as a local representative.
Therefore, he has a lot to do with this local responsibility. The most important objective of our government is to develop urban local bodies into independent entities. You just have to be more discriminating with the help you render toward other people. The demand was made to raise the ceiling for granting administrative sanctions from the public funds of the municipality.
The government will soon issue appropriate directives examining the financial status of members, vice-chairpersons and leaders of urban local bodies who may be involved in public service and provide them with due value.
You need to keep in mind what we have done in that position rather than how many days we have been in office. That is what Mahatma Gandhi is referring to. Now in your hands is an empire entrusted to an empire that can depend on you. Turn it into a municipality where you can make your dreams come true. This is the only request I can make on a single line.
I have a lot of hope that you will set up such glorious municipalities. Keep that hope, and we will keep it, we will stand by you forever to save it, said Chief Minister MK Stalin.
Tamil Nadu Chief Minister Stalin has tweeted, "No matter how many projects the government plans from the fort, the great responsibility of implementing them properly lies in the hands of those in charge as mayors! Let every municipality work for the people in what can be called a 'model municipality'!"
கோட்டையில் இருந்து அரசு எத்தனை திட்டங்களைத் தீட்டினாலும் அவற்றை முறையாக நிறைவேற்றித் தரும் பெரும் பொறுப்பு பேரூராட்சித் தலைவர்களாகப் பொறுப்பேற்றிருப்பவர்களின் கைகளில்தான் இருக்கிறது!

ஒவ்வொரு பேரூராட்சியும் 'மாதிரி பேரூராட்சி' என்று சொல்லத்தக்க வகையில் மக்களுக்கான பணி அமையட்டும்! pic.twitter.com/AOlXBcOXO2

— M.K.Stalin (@mkstalin) April 18, 2022