Fish Seller Woman Dropped off From Bus In Kumari Because Of Smells
Sophia Loren (Author)
Published Date :

Dec 08, 2021 10:02 IST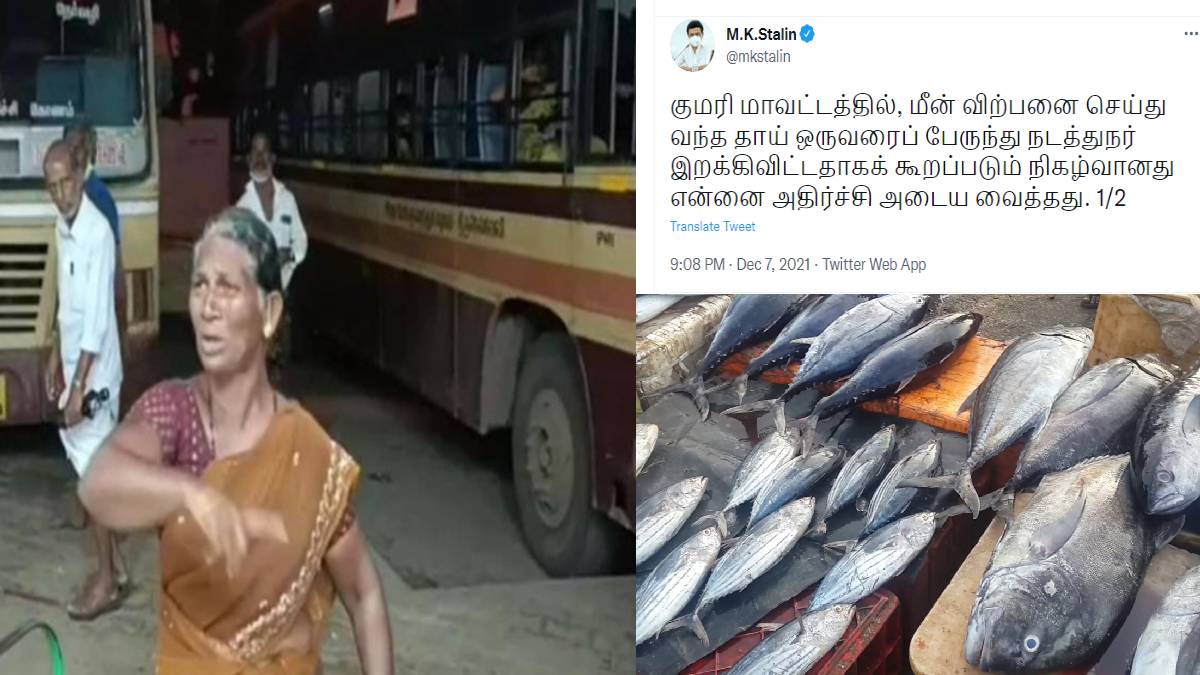 Selvam, a fisherwoman, has boarded a government bus from Colachel bus stand in Kanyakumari district to Vaniyakudi. The bus conductor dropped her off at the bus, saying that she stinks fish. She was not allowed to get in, and so out of anger and emotion, she burst out and screamed in the bus stand accusing the management.
Some people who took a video of her bursting out at the Colachel bus stand shared the video on social media. The video of the poor old lady selling fish asking for justice has caught the attention of social media sites and also grabbed the eyes of social activists.
Talking about this, Grandmother Selvam said, "Every morning, I carry the fish on my head and sell it in the Colachel area and come to sell the remaining fish at the Colachel market in the evening. At night I go home through the government bus where the transportation is free for women.
Similarly, after selling fish on Monday, I came to the Colachel bus stand at night and boarded the government bus to go to Vaniyakudi. " At that time, the bus conductor told her to get out of the bus because she carried fish, and it smelled.
Sundar Singh, the manager of the Colachel Government Bus Depot, has brought this to his attention. He stated that he was investigating the driver who had dropped the elderly woman off the bus and that departmental action would be taken against him as soon as the full driver's information was received.
Arvind, the general manager of the transport department, has suspended Michael, the state bus driver, Manikandan, the conductor of the government bus, and Jayakumar, the commentator at the Colachel bus stand, for not taking action on the grandmother's complaint.
In addition, the Tamil Nadu Deputy Director of Transport apologised to the elderly lady. An uproar has erupted after a government bus driver acted in such a way as to offend a grandmother who makes a living by selling fish.
Chief Minister of Tamil Nady tweeted a post regarding this shocking incident that was held in the Kanyakumari district. He tweeted, "In Kumari district, I was shocked by the incident where a bus driver allegedly dropped off a mother who was selling fish. 1/2."
குமரி மாவட்டத்தில், மீன் விற்பனை செய்து வந்த தாய் ஒருவரைப் பேருந்து நடத்துநர் இறக்கிவிட்டதாகக் கூறப்படும் நிகழ்வானது என்னை அதிர்ச்சி அடைய வைத்தது. 1/2

— M.K.Stalin (@mkstalin) December 7, 2021