Helmet and Kavalan SOS mobile App Awareness Rally Conducted in Coimbatore
Ram Kumar (Author)
Published Date :

Dec 26, 2019 08:12 IST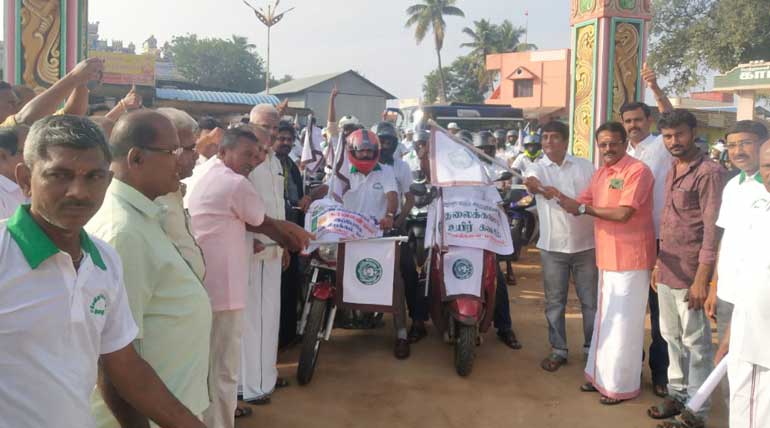 Helmet and Kavalan SOS mobile App Awareness Rally Conducted in Coimbatore: On behalf of seeking goodness and wellness among the people of Coimbatore, a group of young volunteers in Coimbatore involved themselves to conduct a rally to create awareness about wearing helmets and the new Police initiative, Kavalan SOS Mobile App.
Following Chennai, the state's capital, Coimbatore settles in second place of holding the highest accident fatalities in Tamil Nadu. Recently, Coimbatore district police have marked nearly 118 accident black spots, where many accidents reported in and around the district. It has become too hard to reduce accidents across the district.
Coimbatore police are working hard every day to reduce accidents. However, nothing could be changed by the action from only one side. Hence some people from Thondamuthur locality of Coimbatore conducted a rally to spread awareness about wearing helmets.
Under the banner of the Tamil Nadu Okalikar Youth Team, the rally has been conducted from Thondamuthur to Periyanayakkanpalayam of the city. Along with the theme of goodness about helmets, the youth team also took the idea of the Kavalan SOS Mobile App, which is the new initiative done by the Tamil Nadu Police Department to prevent crimes against women and children.
The Rally was launched by Ramachandran, the locality President of Thondamuthur and Navnitha Krishnan, the Sub-Inspector of Thondamuthur Police station.