India Lockdown Extension with news rules based on Region in Tamil Nadu
Sivaranjani Soundararaj (Author)
Published Date :

Apr 12, 2020 16:20 IST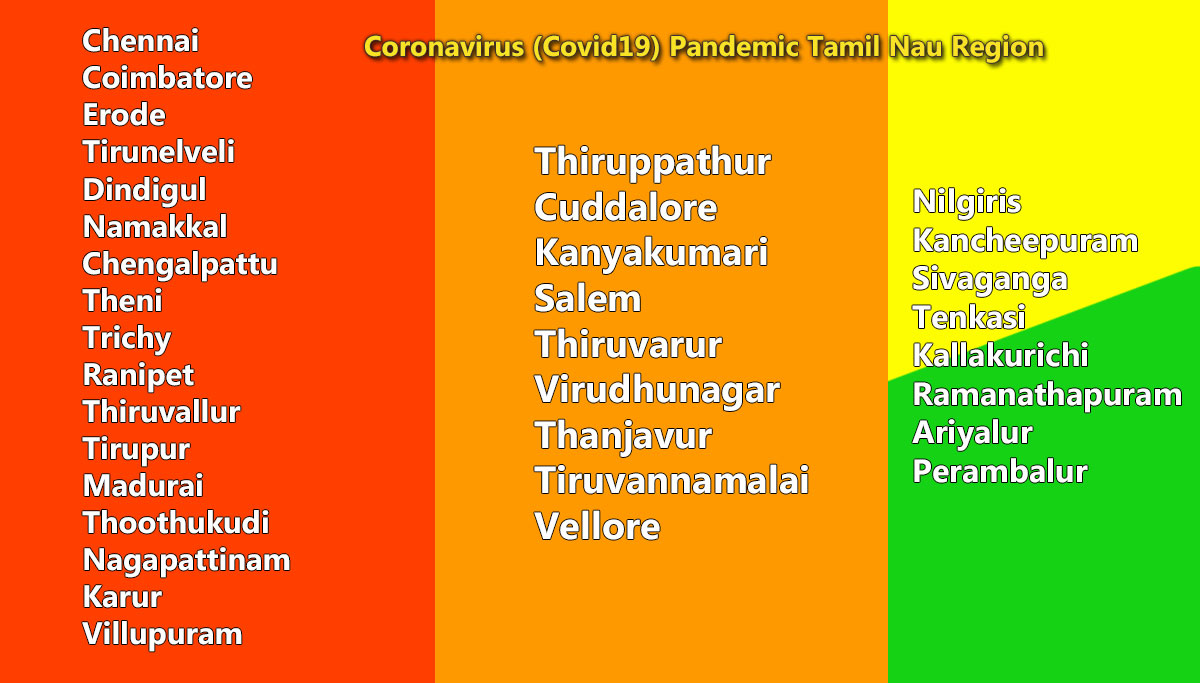 Tamil Nadu is topping as third in the Covid19 count list among the Nation with 915 confirmed cases marking 11 deaths. Though Maharashtra and Delhi secure the top 2 positions, Tamil Nadu will undoubtedly face the lockdown extension without negotiations and the second choice to recover from the increasing contagious number daily.
Despite several states of India announcing their lockdown extension from yesterday insisting on continuing from 14th until April 30, Prime Minister's address is much awaited one by the general public.
Prior to the notice of the PM, it is said that these are the upcoming extension period, which will face a new set of regulations to be followed by the Indian citizens in order to save lives out of Covid-19.
The following are the clear statements to be proposed by the Prime Minister for Tamilnadu after negotiating three times with Chief Minister Edappadi Palaniswami. It is already known that several districts and regions of Tamilnadu are locked down based on the seriousness of the pandemic CoronaVirus.
Both homes quarantining and Hospital quarantining are being advised and followed by the Medical personnel vigorously in each district of Tamilnadu to stop the communal spread from the travel history based confirmed CoVid cases.
To be clear, the next 14 days of extended quarantine and social distancing will be more precise in minimizing the spread of Corona furthermore among the people.
With two more days to end the already proposed curfew, the new continuation begins right next day i.e., from April 15 to April 28, 2020.
It is expected that the country's cities will work based on three classifications of CoVid shutdown.
Tamil Nadu Coronavirus Red Area:
Districts or regions coming under this area will be advised to follow the regular quarantining orders practiced in the last 15 days due to the highness of CoVid numbers or spread rate.
Among the 34 districts of Tamilnadu, 17 regions ( Chennai, Coimbatore, Erode, Tirunelveli, Dindigul, Namakkal, Chengalpattu, Theni, Trichy, Ranipet, Thiruvallur, Tirupur, Madurai, Thoothukudi, Nagapattinam, Karur and Villupuram) have been listed already as Red Zone and right after Narendra Modi's address regarding lockdown extension, the above red areas will follow the Nation's strict CoVid lockdown.
This classification example of Tamilnadu is applicable to all states and districts of India after the Prime Minister's approval.
Tamil Nadu Coronavirus Orange Area:
The government has granted permission to agriculturist and small scale industries to work based on the CoVid restriction criteria in the 9 districts of Tamilnadu namely Thiruppathur, Cuddalore, Kanyakumari, Salem, Thiruvarur, Virudhunagar, Thanjavur, Tiruvannamalai and Vellore.
Tamil Nadu Coronavirus Yellow or Green Area:
These areas can also be depicted as Corona free Zone or very less CoVid zone. It is said that these areas and people will be offered with more CoVid fluctuations to overcome the economic issues.
Adding more, people of these districts (Nilgiris, Kancheepuram, Sivaganga, Tenkasi, Kallakurichi, Ramanathapuram, Ariyalur, Perambalur) may enjoy a public transport facility as per the constrained orders of government.
Hoping to deliver the best out of this pandemic CoronaVirus outbreak,let us all divide and maintain social distancing as per the officials orders to lead a united life forever.