Keeladi Excavation: CM Announces World-Class Museum At the Excavation Site
Vijayan Sankar (Author)
Published Date :

Nov 02, 2019 12:15 IST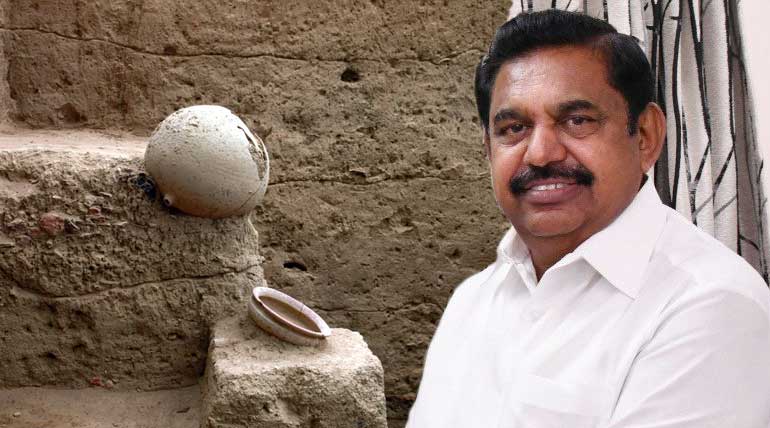 CM announces the construction of a world-class museum at the cost of 12.21 crores at Keeladi: Chief Minister, Edappdi K. Palaniswami, could not have given a better gift than Museum at Keeladi to the more than nine crore Tamil people on the occasion of Tamil Nadu Day. Yesterday speaking at a celebration function of Tamil Nadu day, in Kalaivanar Arangam, he presented this wonderful gift.
CM said that the government is about to spend 12.21 crores Rupees on constructing a world-class museum to showcase the findings used by Tamil people in Keeladi. Even the prominent opposition DMK party's MP Thamizhachi Thangapandian cannot stop congratulating the CM. Also, Minister of Tourism, Vellamandi N. Natarajan, told the PRESS that all efforts to construct the museum would be made fast without any hindrance to the next round or excavation or for the tourists.
CM gives double happiness to Tamil people: At the celebration of Tamil Nadu Day on Friday at the start of its 64th birth anniversary, CM also surprises the Tamil people with the Keeladi museum announcement. Not relying on the central government, the Tamil Nadu government will bore all the 12.21 crore expenses for constructing a hi-tech museum in Keeladi.
It will be on par with the great museums of the world plus with all technological excellence. It will house all the 5,000 antiquities found in the five excavations so far and also of future findings. It includes gold jewelry, finely crafted beads of terracotta, glass, carnelian, game pieces, and several others. It also contains one piece of sculpture of an older woman with sagging cheeks.
Tamil Nadu Day function in Chennai: The first time the government-sponsored birthday celebration of Tamil Nadu Day ended with a fantastic function in Kalaivanar Arangam yesterday. CM, Deputy CM, and other ministers of the state have participated in the function. CM, while speaking, said today the birthday celebrations are to remember all the selfless souls who sacrificed a lot, including life, for proper formation of Tamil Nadu.
He also said it is only the Tamil society that learned to write first in the Indian subcontinent, and even they were the pioneers in building ships. Then, he made the fantastic announcement of the museum construction.
All the Tamil people can raise their heads in pride of being one of the oldest language people in the world with enough proof of it in the newly constructed world-class museum in Keeladi.