Historic announcement of setting up a framework for learning Tamil across the world
Vijayan Sankar (Author)
Published Date :

Sep 23, 2019 15:40 IST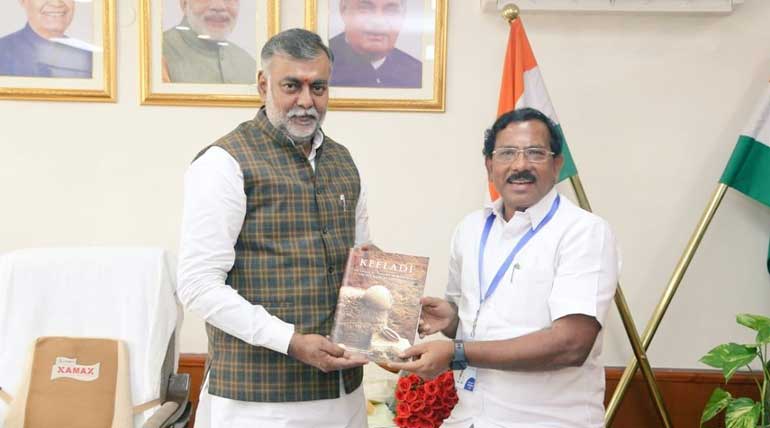 Minister Pandiarajan to take Tamil to the next generation with proposed Tamil Development centers worldwide
Ma Fo K.Pandiarajan, Tamil Nadu Minister for Tamil Culture and Archeology, met the PRESS in Delhi now. He made a historic announcement of setting up a framework for learning Tamil across the world. He is in Delhi to seek financial assistance from central government for this proposed Tamil framework.
Already, the central govt in the process of allotting funds to many languages to set up such a framework to develop them. Ma Fo Pandiarajan, after successful reporting of fourth excavation results of Keeladi, is now on the next mission of taking 2200-year-old Tamil culture all over the world.
Salient facts of Minister Ma Fo Pandiarajan's PRESS meet in Delhi
Minister announced that a framework similar to Dakshin Hindi Prachar sabha to develop Tamil worldwide to be formed soon
Chief Minister Edapadi Palanisamy has already written to the Center for assistance for the framework. As the Tamil culture minister, he is pursuing it further to make it a reality soon
There are more than 1.25 crores of Tamils across India, and more than 1.5 crores of Tamil people across the world
To enable them to learn Tamil and know their roots in Tamil culture this Tamil framework will help
Mahatma Gandhi formed Dakshin Hindi Prachar Sabha and was run by the current president of India, Ramnath Kovind. It has made 54 crores of non-Hindi speaking people to learn and write Hindi fluently
The Malaysian government is having a three-language policy of learning the mother tongue, one of the three national languages like Tamil, Malay or Chinese, and then English.
Tamil Development centers to be set in America and many countries to enable the next generation Tamil people there to learn Tamil.
Ma Fo Pandiarajan is using all his expertise as a successful global entrepreneur to bring out 2200 years old rich Tamil culture in Keeladi. Now he is moving to the future to take Tamil to the next generation Tamil people worldwide with Tamil development centers.