Top Party Members Quits From Kamal Haasan's Makkal Needhi Maiam
Sophia Loren (Author)
Published Date :

May 07, 2021 12:32 IST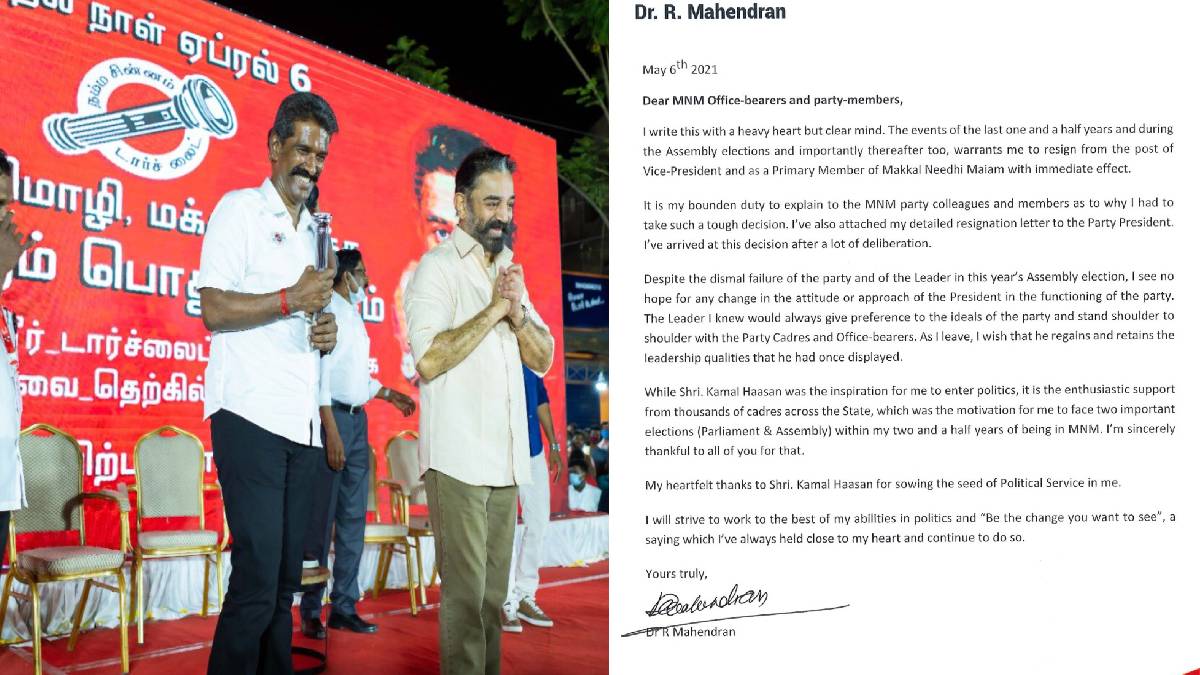 Makkal Needhi Maiam Party is in chaos due to the resignations of the chief members of the MNM party. Vice President Makkal Needhi Maiam Party, Dr. R Mahendran, has quit the party recently. All top executives of the MNM Party have resigned from the party.
Dr. R Mahendran resigned his post and walked off from the MNM party after submitting the resignation letter to the MNM Chief Kamal Haasan. He officially posted the letter on his Twitter page.
The letter contains eight pages where he pointed out the negatives that happened at the party in recent years. Dr. R Mahendran said that the party is not like how it was in 2018; rather, things got worse in 2019 when Sangya Solutions tied the knot to manage the party's poll campaign.
The eight pages letter is strong with the criticisms against the party and the party chief Kamal Haasan. Dr. R Mahendran pointed saying that Kamal Haasan is miss led by few members, and he is not lending hears to the voice of party members.
After the resignation of the party member, it came to know that there were many clashes between the members of the party, even during the election campaigns. The allocations of candidates were also in chaos, and few members were not happy with the decisions.
The letter says there was a lack of democracy in the party and claims that Kamal is making wrong decisions. At the same time, Dr. R Mahendran is clear in one statement that his resignation has nothing to do with the party's loss in Assembly Election 2021.
Dr. R Mahendran tweeted on his page by attaching the letter, "With a heavy heart but a clear mind, I am resigning from the post of Vice President and as a Primary Member of the Makkal Needhi Maiam party. I have listed down all the reasons that have compelled me to take this tough yet moral decision."
Following this letter, Kamal Haasan tweeted a reply by attaching a letter in common mentioning Dr. R Mahendran as a betrayer. The letter mentioned, "Remove the betrayers," resonated the unanimous voice of the party. Dr. Mahendrab was on top of that list.
He also added, "He tried to pre-empt his removal of resigning, just like you. I am happy that the fact that a weed removes itself... We will not pay heed to those cowards who desert us at first sight of failure. We will not falter from our ideologies and the path we have chosen."
Kamal is still strong to hold the Makkal Needhi Maiam Party with the full support of his well-wishers and the party members.