New Campaigning method - Local body elections in Tamil Nadu 2019
Sivaranjani Soundararaj (Author)
Published Date :

Dec 23, 2019 14:25 IST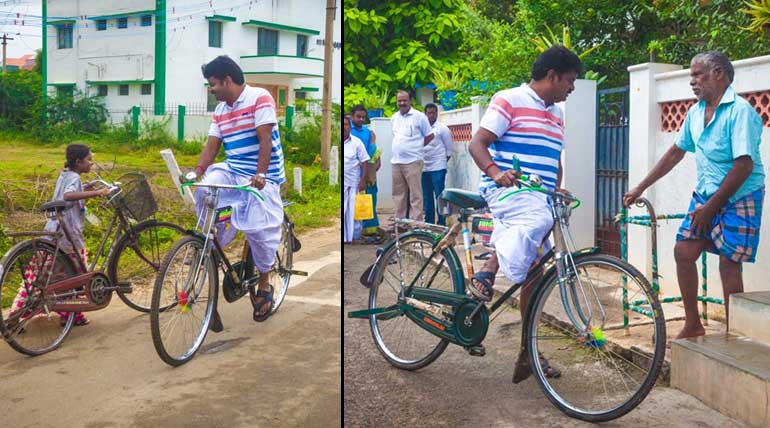 New Campaigning method - Local body elections in Tamil Nadu 2019: After long years, Tamil Local Body elections came alive. Local government elections in Tamil Nadu will be held on December 27 and 30 of the 27 districts, excluding ten districts, including Chennai.
To add fuel to the fire, electing candidates involved in campaigning all over the Tamilnadu. Only four days to go, local body independent campaigners canvass in a new way to register their votes on the people's minds.
On the other hand, Tamilnadu Health Minister Vijaya Baskar engaged in agitating as a support for all the AIADMK contesting local body elections candidates in the region. Adding full swing, Health Minister lighted foot campaign in Thirumalairayapuram area during dusk.
Meanwhile, Manapparai and Marungaapuri of Trichy district collected votes by roaming in the contesting areas. DMK Party Manapparai candidate Gunaseelan along with his supporters, indulged in local body election campaigns to gain votes.
Physically challenged people are also interestingly contesting in Tamilnadu elections proving their mental strength and faith. Similarly, Challenger Ramakrishnan from the Annavaasal region of Pudhukottai district battling the election accruals vote by peddling.
BJP National Secretary H.Raja campaigns in the Pillur region of Thiruvaarur district supporting Independent local body candidate Ganesh. On the other side, In Coimbatore district, campaigning fires all over, hoping to gain more seats. Alike, General Secretary of Bharatiya Janata Party Vaanathi Srinivasan supports by campaigning for Local Chairman candidate Mrs.Poongothai of Karuvaloor in Avinashi and ward members intriguingly.
Dindigul local election candidates took the pledge in a temple stating that No money will be provided for votes, and similarly, people have undergone oath to support the reverse i.e.Not to sell votes for cash.
Independent Candidate Paalpandi in the Kallipuli region of Madurai district gained votes in a new way by cleaning the drainage and promoted Spanner symbol via his friends by free servicing vehicles in the competing region.
Although this, in one hand, reports reveal that information about when the elections will be held for the remaining ten districts, including Chennai, will be announced soon.