New Districts in Tamil Nadu 2019
Vignesh Subbaian (Author)
Published Date :

Dec 06, 2019 17:36 IST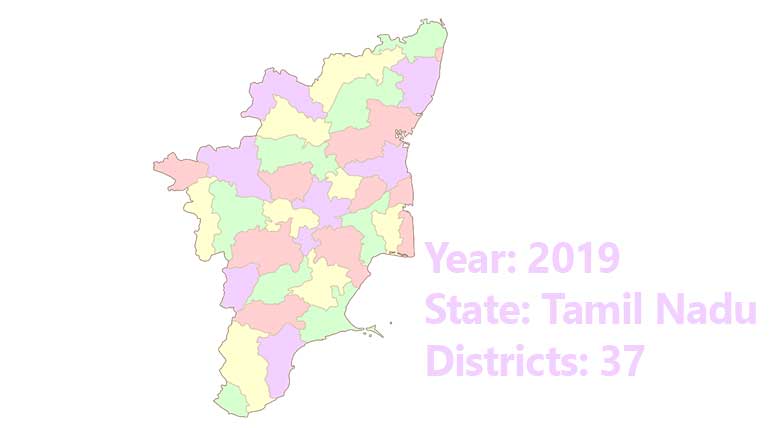 Five new Districts added in 2019 to make the districts tally to 37 in Tamil Nadu: Tamil Nadu district numbers saw a dramatic increase in 2019 from 32 to 37. The sudden rise of five new districts is said only to facilitate administration and help people. It is the reason given every time the districts are bifurcated in Tamil Nadu. Also, the ministers say that it is only to satisfy the requests of the people to avoid traveling long distances to district headquarters.
The five new districts bifurcated in Tamil Nadu in 2019 include
Tenkasi
Tiruppathur
Chengalpattu
Ranipet
Kallakurichi
They have been bifurcated from the four districts of Tirunelveli, Vellore, Kanchipuram, and Villupuram. The Tamil Nadu government's Commissioner of Revenue Administration visited all the four districts and held discussions with all concerned before forming the new districts. The new districts and their divisions include
The Tirunelveli district was bifurcated into two divisions Tirunelveli and Cheranmadevi, with eight taluks including Tirunelveli, Palayamkottai, Manur, Nanguneri, Radhapuam, Ambasamudram, Cheranmadevi, and Thisyanvilai. The second two divisions under Tenkasi are Tenkasi and the new one, Sankarankovil, also with eight taluks including Tenkasi, Senkottai, Kadayanallur, Sivankottai, Tiruvengadam, and Alangulam.
Kancheepuram district was bifurcated into two divisions Kancheepuram and the new Sriperumbudur with five taluks, including Kancheepuram, Uthiramerur, Sriperumbudur, Walajabhad, and the new Kundrathur. The other three divisions include Chengalpat, Maduranthakam, and Tambaram with eight taluks including, Chengalpat, Maduranthakam, Cheyyur, Thirukalakundram, Tiruporur, Tambaram, Pallavaram and the new Vandalur.
Vellore was the only one to be trifurcated into three Kallakurichi, Ranipet, and Tiruppathur. The new revenue divisions include Gudiyattam, Vaniyambadi and Arakkonam, and also K V Kuppam being the new taluk. Also, two revenue divisions of Tirupatthur and Kallakurichi with six taluks Kallakurichi, Sankarapuram, Chinnasalem, Tirukoilur, Ulundurpet, and Kalvarayan hills.
Tamil Nadu's new Chief Secretary K.Shanmugam appointed five new collectors for the new districts namely.
Kiran Gurrala as Kallakurichi district
GK Arun Sundar Dhayalan for Tenkasi
A John Louis for Chengalpattu
Sivanarul for Tirupathur
S Divya Darshini for Ranipet
There is still demand by people for many more districts like Sankaran Kovil in Tirunelveli to form new districts. Supreme Court today ordered not to conduct local body elections in these 9 districts along with the other districts on 27 and 30 December.