Political Storm in Keeladi Excavation: Indian history starting from Tamil Nadu
Vijayan Sankar (Author)
Published Date :

Sep 29, 2019 10:41 IST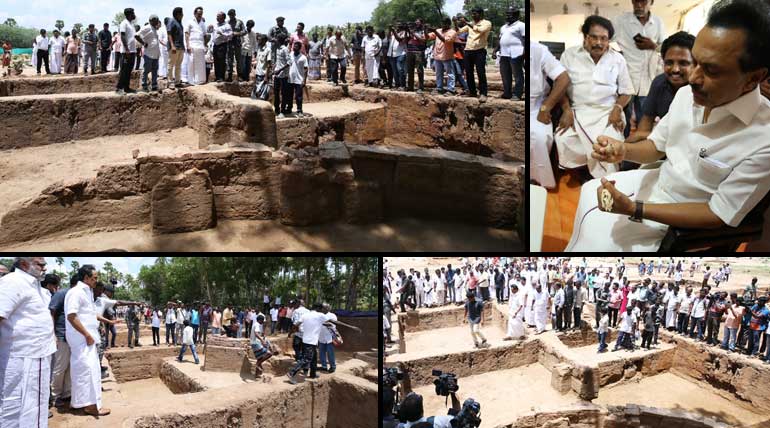 2600 years old Tamil culture proving Keeladi, becomes the eye of the political storm: Recent 4th report by Tamil Nadu State Department of Archaeology on the excavations done by the Tamil Nadu government found evidence of rich Tamil culture in 600 BCE. The first three excavation reports done by the central government was inconclusive, and only an eyewash attempt.
Also, they winded up after the 3rd one-page report stating nothing worthwhile finding in Khiladi. Only after it, Ma Fo Pandiarajan, minister of Tamil culture and archaeology took efforts and allotted 55 lakhs for the fourth excavation. The report confirmed scientifically that Indian history started from Keeladi, Tamil Nadu.
M K Stalin who visited Keeladi on 28th September was proud of that Tamil culture paved the way for the formation of India. Velmurugan, leader of Tamilaga Valvurimai Katchi issued a statement condemning the BJP government for false information during the previous three excavations and asked the minister not to seek support from them. All this is making the 2600 years old proof of rich Tamil culture in Keeladi now a political topic.
What did the first three reports of the central government fail to find in Keeladi? The first excavation attempt by the central government did not report any finding in Keeladi. The second report by the excavation of only up to 6 meters found 2,290 years old Tamil culture reported by its head Amarnath Sivaramakrishnan. Immediately he was replaced by Sriraman, and on the hastily conducted third excavation, he reportedly said that nothing worth found in Keeladi.
With that, the central government archaeological team packed their bags and left Keeladi. But by the sincere efforts of Ma Fo Pandiarajan, and allotting funds for the fourth excavation lead by Sivanandam was conducted. Last week, T. Udaychandran commissioner of Archeology and Ma Fo Pandiarajan released the fourth report which scientifically proves rich Tamil culture has been started as early as 600 BCE.
Stalin visits Keeladi: DMK party president M K Stalin visited Keeladi yesterday and saw all the efforts by the Tamil Nadu Archeological Department's, fifth excavation efforts to unearth further findings of Keeladi. He said that Keeladi proves the Indian history starting from Tamil Nadu.
As per the Archeologist Survey of India website, Rs 27,000 crores have been allotted to it by the central government. Out of it Rs. 1,000 cr has been allotted to Gujarat for setting up an archaeological park.
But from sources, not one rupee has been allotted to Keeladi or Tamil Nadu from the central government assistance of Rs. 27,000 crores. Tamil Nadu government on its part has allotted only Rs. 1 crore for setting up an archaeological park in Keeladi. These issues are becoming politically charged now.
But, it is important to make Keeladi a heritage site and more excavation of nearly 200 acres in three villages. It will help to find more proof of the thousands of years back rich Tamil culture and prosperity.