DMK Chief Stalin Says, Protest Against CAA will Continue After Local Body Election
Vignesh Subbaian (Author)
Published Date :

Dec 26, 2019 17:49 IST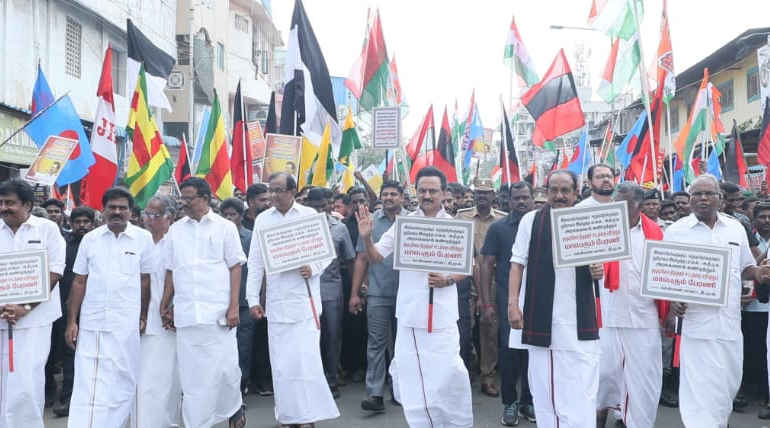 Will continue to protest until CAA is taken back, says Stalin: DMK leader MK Stalin today, December 27, said that protests against CAA would continue until it is rolled back. Tamil Nadu police have booked cases against Stalin, Chidambaram, and other leaders for protesting against CAA even after Madras High Court allowed it. The protests to continue en masse after the rural body elections on 27 and 30, confirmed Stalin.
Opposition leader MK Stalin today spoke about CAA during his meeting with the communist leaders in Chennai. He went to the Communist office to wish Senior communist leader Nallakannu on his birthday. He met the other communist leaders like Pandian, Rangarajan, and others. While speaking in the function, he spoke about CAA including
In spite of the police statement of booking cases on 8,000 people for participating in the protests against CAA in Chennai, the AIADMK ministers are continuously saying only 5,000 people participated in the CAA protest.
Due to local body election work, the CAA protests are not announced now.
As said before, the CAA protests will continue until it is taken back by the government.
The next CAA protest will be so massive that nothing like it was conducted anywhere before.
CAA and NRC protests continue in many parts of India even after PM's assurance that there were no NRC discussions so far. It was in contradiction to many of his ministers saying NRC will be conducted nationwide, including the home minister. Now more than 3500 crores are to be spent on NPR or national public register.
The government says it is only in the continuance of the regular exercise before the census procedure in 2021. But it differs from it in many ways including asking for the date of birth of the parents, which was not in the previous NPR procedure. Many leaders apprehend it is only a precursor to the NRC.