Rajinikanth says He Neither Regret Nor Apologise For his Comments on Periyar
Anusha Sathish (Author)
Published Date :

Jan 21, 2020 15:52 IST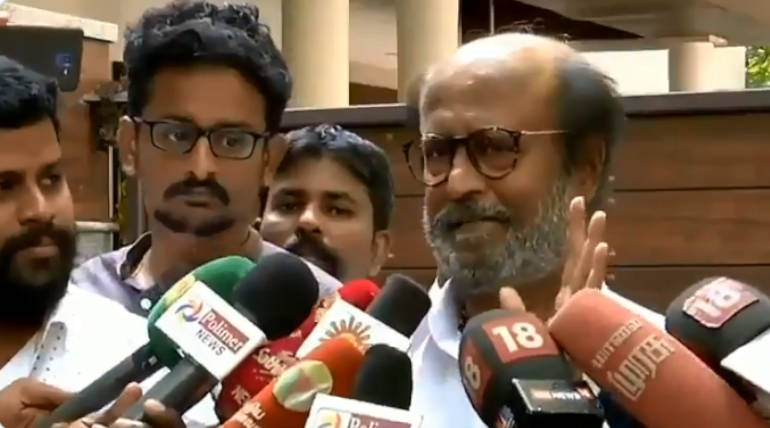 Rajinikanth refuses to apologize: Defends himself, saying, "just read out the newspaper Outlook": Actor turned upcoming Politician Rajinikanth was charged as "Uttering a blatant lie" about social reformer Periyar and demanded apologies from the actor. The actor retorted, saying, "I only read out the reports published by the Outlook, and nothing has been spelled out of my imagination. I said what I have seen, and the supporters of Periyar voiced out what they have seen. I don't want to cut a sorry figure at any cost."
Supporters of Periyar, the members of Dravidian Outfit sent a petition to the Coimbatore Police commissioner to register an FIR against Rajinikanth under 153A section (Promoting enmity between different groups on the grounds of religion) and 505 ( intent to cause or which is likely to cause fear or alarm to public) of Indian Penal Code.
Rajinikanth attended Thuglak function on January 14 and spoke about a rally that happened in Salem, four decades ago, conducted by Periyar. He said, "portraits of undressed lord Ram and Sits garlanded with slippers had been carried along in the rally." Thuglak printed the pics and was seized for the same. Among the public, the journal was much sought-after at that time.
Denying Periyar slippered the portraits, the supporters of Periyar from various organizations took a toll on Rajinikanth and demanded an apology. In fact, some parties like VCK threatened him to gherao until he asks apology. This has raised controversy, and the actor said, "I have not given any baseless remarks and have the proof for the same flashing a photocopy of an article that appeared in English Magazine in the year 2017. If someone expects my apology, I am sorry I neither apologize nor regret the comments," Rajinikanth concluded.