Roller Cross Barricades in Ooty-Kallati Road To Prevent Fatal Accidents
Sivaranjani Soundararaj (Author)
Published Date :

Dec 27, 2019 18:24 IST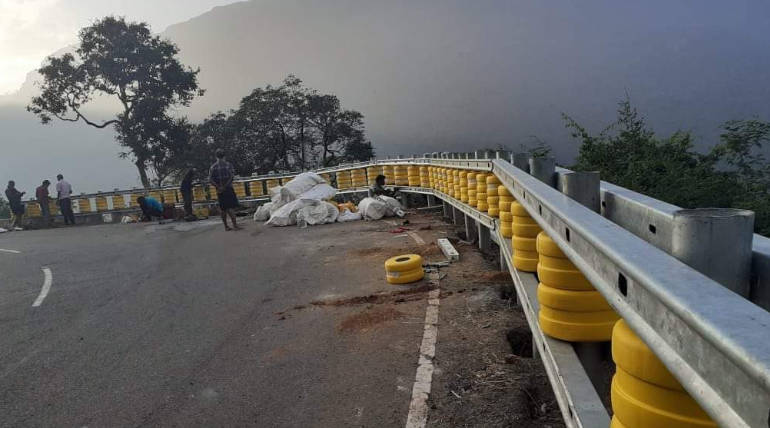 Rubber Barricades for the first time in Ooty roads to reduce the risk of fatal accidents: Roller Cross Barrier has been set up to prevent accidents on the Ooty-Kallati Highway. Tamilnadu State Roadways department initiated the first rubber barricades on the hill roads as a step to prevent fatal accidents.
The Nilgiris district receives a large number of tourists from abroad, foreign states, and other parts of Tamil Nadu daily. Most of the tourists visit Masinagudi near Ooty, Mudumalai Tiger Reserve passing through the Talakunda and Kallatti Hills. This road also paves the way for travelers from Mysore too. But on the steep hillside, the canal does not allow people from outside to drive safely as a result of getting into an accident.
In particular, Kerala state vehicles and vans crashed on the Masinagudi Ghat roads, and as a result, the route was first banned a few years ago for vans and heavy vehicles. However, there were frequent accidents.
Out of 36, nearly eight hairpin bends seem very dangerous for the travelers resulting in sucking of lives. Five people from Chennai died in an accident during the last year of October due to the roll down of their car in the 35th hairpin bend on the Ooty downhill road. After the incident, police banned the downhill completely in the Ooty-Masinagudi roads except for the Nilgiris registered vehicles. But tourists are urging the officials to take the road. On the one hand, the State Highway Department is taking various steps to make this road a safer road for travelers.
The roller cross barrier is located between the 35th and 36th curves of the high accident-prone zone. No longer will the vehicles be thrown into the ditch instead, roll on the roller and get back on the road when the travelers face brake failures in the bizarre steep ways on the ghats.
Assistant Engineer Prakash states that Almost in the eight vulnerable hairpin bends, roller crash barriers have been fixed with 300-meter coverage each merely and thereby removing the existing metal barriers.
This Malaysian technology of roller crash barriers have been established in Bangalore for the first time in India, and the safety barricade now hits the roads of Tamilnadu to preserve lives.